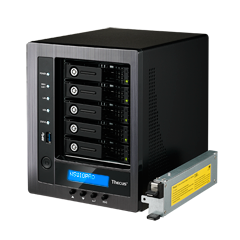 N5810PRO
Prestazioni superiori, sicurezza senza precedente con il Mini-UPS integrato
Processore Intel® Celeron™ J1900 Quad-Core SoC / RAM DDR3 4GB
Mini-UPS integrato, Alimentazione per situazioni contigenti
Clonazione pulizia disco, Pulizia dei dati al 100%, protezione senza eguali.
Aggregazione di link 5 LAN per il miglioramento delle prestazioni di rete
Server VPN, Accesso remoto sicuro
Backup snapshot, facile recupero con snapshot
Replica remota in tempo reale (RTRR)
Thin Provisioning iSCSI supportato
VMware®, Citrix®, Microsoft® Hyper-V® Compliance
Mini-UPS numero di brevetti: M512732

Caratteristiche
Running on the newly-designed, enhanced ThecusOS™ 7.0

The N5810PRO runs on the newly designed ThecusOS 7.0 offering an easy to use, intuitive user interface. Introducing several new features including Photo Station, Thecus App Center, User Profile, ThecusOS 7.0 delivers significant improvements in design, performance, and user experience. (OS7.0 phase-in on new production from 2016/03/15.)

Uninterrupted Accessibility with Thecus System Failover

The Thecus System Failover feature is a fault tolerance process that creates mirrored data volumes. With at least two Thecus NAS available, data is copied by schedule and all changes are mirrored between the two NAS. While the second NAS is not visible, it communicates with the primary NAS. In the event of a power or network failure, a scheduled maintenance, or other unforeseen circumstances, System Failover automatically redirects operations to the secondary Thecus NAS, which then acts as the primary NAS.

Secure Remote Access with Virtual Private Network (VPN)

A VPN Server allows users to remotely access a secure network. with VPNs, businesses will be able to utilize a cost-effective, scalable and secured network infrastructure for its client base.

Thecus RAID Protection

IT administrators can aggregate multiple RAID groups into a large storage pool to flexibly utilize their entire storage capacity as a whole, all the while improving data redundancy protected with data redundancy and allowing better data protection against multiple disks failure concurrently for large capacity environment. Thecus OS also allows for the creation of multiple volumes in the Storage Pool, improving customizability for various applications in typical business environments with diverse workgroups.

AES 256-bit
RAID Volume Encryption

Thecus's AES 256-bit RAID volume encryption tool allows users to fully encrypt their entire RAID volume, defending essential data even in instances of theft.

Fault Tolerance
up to RAID 10

When it comes to data management, Thecus NAS truly let you have it your way. Create multiple RAID volumes each supporting different RAID modes including RAID 0, 1, 5, 6, 10 and JBOD for your own balance of performance and data protection.

RAID Management


RAID level migration allows RAID volumes to be easily moved from one NAS to another. And RAID expansion allows you to increase the size of your RAID volume by the gradual replacement of older drives with larger ones.

Snapshot Your Data

With BTRFS support, Thecus NAS users can enjoy the simplicity of snapshot backups. Through BTRFS subvolumes, snapshots of data at various time points can be manually or automatically made and just as easily later restored to rollback files or folders to previous states.

Complete Data Backup Solution

Bundled with
Free Acronis® Backup Software

Thecus brings the best to the table with Acronis's advanced backup software. Back up all your data with One-click Protection or pick and choose only your most important files. Acronis sports a slick interface, user-friendly design, and comprehensive features to keep your data safe.

Local Backup &
Time Machine

PC users can utilize local backup devices while Mac users can automatically back up their entire Mac. Whenever a need arises, users can simply go back and recover files quickly and effortlessly

Real-Time Remote
Replication (Rsync)

This innovative backup feature allows users to back up files instantly to their NAS, external hard drive, or remote NAS. RTRR saves you time as it is able to back up data immediately and automatically.

The Cloud Done Your Way

Personal Cloud

We're a mobile society, and our NAS solutions are keeping up! Incorporated into Thecus NAS is support for Thecus's T-OnTheGo™ smartphone app. Supporting both iOS and Android, this NAS management software enables users to access, copy, stream, and edit any data between their NAS and mobile device. Your own personal cloud, available from anywhere with internet access.

Cloud Backup

The private and public clouds meet with Thecus' new DropBox, Amazon S3 and ElephantDrive cloud backup functionality! Guard your data with RAID at home and an additional level of protection in the Cloud. Just drag and drop files into the folder on your NAS and access them on any computer or mobile device with DropBox, Amazon S3 or ElephantDrive.

Remote Access via DDNS

Enable easy access to your NAS with Dynamic DNS. DDNS allows users to allocate and access their NAS files via the internet remotely. When the IP address is changed, the DDNS server will automatically adjust your address to make sure that remote access is always available. In short, DDNS provides convenient remote access to your Thecus NAS possible by utilizing domain names instead of IP digits.

Multimedia Data Center

Direct Media File Playback
via HDMI Output

Transform your NAS into the ultimate multimedia hub! Thecus® NAS integrated HDMI output allows you to connect your NAS directly to your TV for direct device management and multimedia playback.

Media Streaming to XBOX360/PS4
via Plex Media Server

With the Plex Media Server installed on your Thecus® NAS, various devices on your network (such as your Xbox 360 and mobile devices) can connect to and stream your local and online media. The server can also automatically assemble iTunes, iPhoto, and Aperture content. From your favorite videos to your mountains of music, Plex makes it easy to manage and enjoy all of your media on your Thecus NAS.

TV Streaming
via Apple TV/Chromecast

Thecus NAS allow you to have your very own entertainment hub wherever you go. With TV streaming support and mobile apps, you can share all your favorite photos, music, and videos.

7 Modes of Link Aggregation for Faster Transfers

Link aggregation can sustain multiple network connections and provide redundancy in case one of the links fails. Thecus NAS supports 7 modes which provide Load Balance, Failover, 802.3ad, Balance-XOR, Balance-TLB, and Balance-ALB, Broadcast.

Flexible Storage Allocation with iSCSI LUN and Thin-Provisioning

Get the most out of your storage space with the extreme speed of iSCSI and the efficiency of iSCSI thin provisioning. Connect through iSCSI for the fastest data transfer speeds available and make wasted disk space a thing of the past with thin provisioning's flexible storage functionality.
Panoramica
Thecus annuncia oggi il nuovissimo NAS zero-crash a 5 slot: il N5810PRO. Assemblato con processore Intel® Celeron™ J1900 Quad Core da 2.0 GHz SoC e Mini-UPS, il Thecus N5810PRO permette di raggiungere prestazioni elevatissime e una sicurezza senza precedenti, al fine di garantire una integrità dei dati personali impeccabile.
"In un mondo digitale come quello di oggi in continua evoluzione, i volumi di affari richiedono sempre più soluzioni di storage robuste e in grado di fornire prestazioni al top, mantenendo allo stesso tempo i dati immagazzinati sempre al sicuro" ha dichiarato Florence Shih, CEO di Thecus Technology. " Il NAS N5810PRO è pensato per fornire agli utenti un buon set di applicazioni, in grado di ottimizzare al meglio l'ambiente di lavoro, garantendo prestazioni e sicurezza dei dati".
Grazie al processore Intel Celeron , 4 GB DDR3 RAM (espandibili fino a 8Gb), il NAS N5810PRO è in grado di garantire una velocità di trasferimento molto elevata (fino a 500Mbps). Grazie alle 5 porte Gigabit LAN, il nuovo N5810PRO offre le modalità link aggregation, e permette agli utenti di impostare i protocolli fault tolerance e port-trunking per garantire prestazioni superiori. Costruito per incrementare notevolmente i vostri affari, la capacità di storage totale può essere estesa fino ad un massimo di 40TB. Il supporto a VMware, Citrix e Microsoft Hyper-V permette inoltre l'integrazione di un sistema di virtualizzazione senza eguali.
"L'utilizzo di un processore come in noto Intel Celeron J1900 Quad Core 2.0 GHz SoC nel nuovo Thecus N5810PRO, consentirà agli utenti di sfruttare simultaneamente le tante caratteristiche di questo prodotto, offrendo loro prestazioni elevate in ambito lavorativo" ha sentenziato Bev Crair, Vice President, Data Center Group e General Manager, Storage Group, Intel Corporation. "Il NAS N5810PRO è un altro capolavoro della lunga lista di prodotti creati in collaborazione con Intel".
Al fine di proteggere al meglio i dati in caso di interruzione elettrica, il Thecus N5810PRO è dotato di un mini-UPS a ioni di litio che consente di immagazzinare i dati ancora non scritti negli appositi HDD e procedere una volta avvenuta tale operazione alla chiusura del sistema in modo del tutto sicuro. Il nuovo NAS a 5 bay supporta inoltre una lista di strumenti di backup che includono DataGuard per il backup locale e remoto, DataBurn e Snapshot Backup che adoperano il file system di tipo BTRFS. Gli utenti potranno pertanto usufruire di funzionalità di storage avanzate che semplificando al massimo la gestione dello stesso.
Il NAS N5810PRO è dotato dell'intuitivo ed user-friendly sistema operativo Thecus OS5. Il software ottimizzato comprende ora VPN Server per un accesso remoto sicuro e Disk Clone e Wipe per una gestione dei dati ottimale. Gli utenti possono inoltre sperimentare un utilissimo set di applicazioni d'intrattenimento grazie all'output HDMI e Kodi pensato per il playback multimediale e l'accesso da mobile attraverso l'app Thecus T-OnTheGo.
Specifiche
1.Piattaforma hardware
Elemento
Spec.
Processore
Intel® Celeron™ J1900 Quad-Core SoC
Memoria sistema
4GB DDR3
Memoria espandibile fino a
8GB Memory Compatibility List
Interfaccia LAN
RJ-45x5: 10/100/1000 BASE-TX Auto MDI/MDI-X
WOL supportato
Interfaccia USB
Porta host USB 2.0 x2 (posteriore x2)
Porta host USB 3.0 x3 (anteriore x1,posteriore x2)
LCM
Display LCM
4 pulsanti (ENTER, ESC, SU, GIÙ)
Uscita HDMI
Porta HDMI (posteriore x1)
Interfaccia disco
5 x SATA per interno
Alimentazione
Alimentatore da 130W
Controllo termico/ventola
Sensore termico su temperatura processore
Velocità della ventola controllata dalla temperatura
Orologio di sistema
Orologio sistema batteria di backup
Gestione alimentazione
Accensione automatica dopo un'interruzione dell'energia elettrica
Cicalino
Allarme frequenza regolabile
Accumulatore agli ioni di litio
Batteria di backup (Mini-UPS)
Tasti
Tasto di alimentazione
Tasto LCM
Ambiente
Temperatura : operativa da 0°C a 40°C
non operativa tra -40°C a 70°C
Umidità : 0 ~ 80% di umidità relativa (senza condensa)
Telaio
Base torre
Dimensioni (AxLxP)
230 x 190 x 240 (mm)/ 9.06 x7.48 x 9.45 (in)
Carico
5.96(Kgs) / 6.33(Kgs) (with Mini-UPS)
Certificates
CE/FCC/C-Tick/VCCI/BSMI
RoHS
WEEE
2.Funzioni software
0
RAID
Modalità RAID
RAID 0, 1, 5, 6, 10 e JBOD
Ricostruzione automatica
Supportato
Hot-swap
Supportato
Hot spare
Supportato
Migrazione RAID online
Supportato
Espansione RAID online
Supportato
Crittografia volume RAID
AES256bit
Disco
Gestione alimentazione
Arresto disco durante impostazione al minimo
Scansione blocco danneggiato
Supportato
Info SMART
Supportato
Test SMART
Supportato
Roaming disco
Supporta il roaming in base al volume su un altro NAS Thecus(OS7 64bit)
Disk Wipe and Clone
Supportato
Disk Security
Supportato
Rete
Configurazione
Indirizzo IP fisso, indirizzo IP dinamico
Protocolli trasporto
TCP/IP/AppleTalk
Protocolli file
SMB/CIFS, HTTP/HTTPS, FTP, NFS v4, AFP
Link Aggregation
Load balance, Failover, 802.3ad, Balance-XOR, Balance-TLB, Balance-ALB, Broadcast
TCP/IP
IPV6 & IPV4
DDNS
Supportato
SSH
Supportato
UPnP
Supportato
Inoltro porte UPnP
Supportato
Bonjour
Supportato
VPN Server
Supportato
vLan
Supportato
Stato sistema
Monitor di sistema
Monitoraggio di CPU, memoria, temperatura, ventola, uso della rete e conteggio protocolli di accesso utente
Gestione syslog
Invio di syslog alle posizioni assegnate
Funzione di server syslog per ricevere info log da altri sistemi
Accesso dati
Supporto OS client
Windows XP and after
Windows Server 2003 and after
UNIX/Linux
Mac OS X
FTP
Server FTP integrato con controllo larghezza di banda
FTP sicuro
Built-in secure FTP server with bandwidth control
TFTP
Gli utenti possono scaricare e caricare file con i programmi TFTP
Gestione download
BT download (tramite modulo Transmission)
NZB download (tramite modulo NZB)
WebDAV/WebDAV SSL
Supportato
Server stampante (IPP)
Supporta stampanti USB
Supporta un'ampia gamma di stampanti IPP
Client può gestire i task di stampa (elenco/cancella) tramite interfaccia utente web
Backup dati
Backup dati incrementale client
Acronis True image (OEM version)
Ripristino disastri sistema client
Acronis True image (OEM version)
Software di backup lato client
Utility di backup Thecus (Windows/Mac OS X)
Local folder/iSCSI Backup
Supportato
Remote folder/iSCSI Backup
Supportato
Mac Time Machine
Supportato
System failover
Supportato
Snapshot
Supportato
Blocco accesso livello
iSCSI Target/Initiator
Supporta gli initiator Microsoft/Mac OS X/Linux e i target NAS Thecus
iSCSI Thin Provisioning
Supportato
iSCSI VAAI
Supportato
MPIO
Supportato
MCS
Supportato
Clustering
Supportato
Riserva gruppo persistente SCSI3
Supportato
Gestione alimentazione
Accensione/spegnimento programmati
Supportato
Gestione volume
RAID multiplo
Supportato
File system multiplo selezionabile
EXT4/XFS/Btrfs
Supporto multimediale
Server iTunes
Supporta AAC, MP3 con ID3 tag, WAV
Server multimediale
Supporta il protocollo di streaming UPnP AV (tramite modulo)
Autenticazione utente
Utente locale
Supporta gli account utente incorporati
Gruppo locale
Supporta i gruppi di utenti incorporati
Windows ADS
Supportato
LDAP
Supportato
Access Guard
Supporto elenco bianco e nero/filtro IP
Profilo utente
Photo Center
Supportato
File Center
Supportato
App Center
Supportato
Surveillance Center
Supportato
Cloud Backup
DropBox
Supportato (tramite modulo)
ElephantDriver
Supportato (tramite modulo)
Amazon S3
Supportato
File system
Tipo
Journaling File System
Lingua supportata
Supporto Unicode
Autorizzazione (ACL)
"Legge", "scrive" o "nega" i privilegi ai singoli utenti o gruppi in cartelle e sottocartelle
Quota utente
Supportato
Folder Quota
Supportato
Amministrazione
Interfaccia utente
L'interfaccia utente basata su web supporta inglese, cinese tradizionale, cinese semplificato, giapponese, coreano, francese, tedesco, italiano, spagnolo, russo, polacco, portoghese, turco e ceco
Programma utility
Installazione guidata di MS Windows
Supporta Windows 8/7/Vista/2003/XP/2000
Installazione guidata di Mac OS X
Notifica via e-mail
Invia messaggi di sistema tramite e-mail all'amministratore del sistema
P2P Connection
Mail or FB account to register
Trap SNMP
Trap-out informazioni di sistema
Applicazioni mobili (iOS/Android)
Thecus Connect™ (Android)
Provides live up-to-date information of your NAS
Thecus Wizard™
Offers fast NAS Setup via your phone
T-OnTheGo™
Upload, download e streaming multimediale
Orbweb.me
Uploading, downloading, streaming multimedia and webcam via P2P connection
Protezione dei dati
Scansione virus
Supporto Scansione virus (tramite modulo)
Espansione di capacità
Impilabile
estendibile per 5 volumi iSCSI aggiuntivi di un altro NAS Thecus
Scale-Out
Dynamic Volume Expansion
Altro
Cestino
Supportato
Disco web
Supportato (tramite modulo)
Server web
Supportato (tramite modulo)
Montaggio ISO
Supportato
Telecamera di sorveglianza IP
Supporta Motion Eye
UPS
Supported through USB interface
Visualizzazione locale
X-Window tramite uscita HDMI
Contenuti della confezione
Accessory Bag
Ethernet Cable
Power Cord
Universal CD
QIG
Warranty Card
HDD Compatibility List Card
Classe Thecus