Linux NAS | PMI - Montato su rack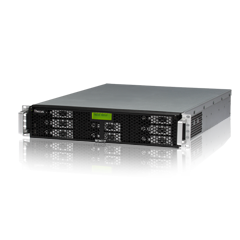 N8880U
Elite Class Business Nas
Caratteristiche
Backup snapshot
Con il supporto BTRFS, Thecus NAS è in grado di usufruire della semplicità dei backup di snapshot. Tramite i sottovolum BTRFS, possono essere scattati manualmente o automaticamente snapshot dei dati in vari momenti e ripristinati successivamente senza sforzo in file o cartelle di ripristino al loro stato precedente.

Clonazione e pulitura del disco
La clonazione del disco consente di copiare tutti i contenuti di un disco su uno o più dischi mentre la pulizia del disco permette la distruzione del volume dei dati in modo permanente.


Server VPN
Un server VPN consente di accedere in remoto a una rete protetta. Con i VPN, le aziende saranno in grado di utilizzare un'infrastruttura di rete protetta, scalabile e dai costi contenuti.

Crittografia del volume RAID AES a 256 bit
Lo strumento di crittografia del volume RAID AES a 256 bit di Thecus permette agli utenti di crittografare completamente il loro intero volume RAID, difendendo così i loro dati sensibili anche in caso di furto.


Data Guard
La soluzione di backup Data Guard è la soluzione software più avanzata, poiché offre sia parti locali che in remoto. Al momento il backup dei dati viene eseguito su volumi RAID, unità USB esterne ed eSATA. In aggiunta, Data Guard utilizza una soluzione tecnologica innovativa per sincronizzare i dati sulla rete con altri NAS e server. Uno degli elementi più importanti è che Data Guard di Thecus® rappresenta la soluzione totale per il backup che rende la gestione del NAS semplice e comoda.

Data Burn
I dati del NAS possono essere masterizzati direttamente su CD, DVD e dischi Blu-ray grazie a Data Burn, un modulo che consente la masterizzazione semplice dei dati su disco. Inoltre, è supportata anche la masterizzazione di file immagine ISO. Per la gestione di file audio, multimediali o essenziali, Data Burn copia rapidamente le informazioni riducendo notevolmente i tempi di attesa. La procedura di masterizzazione dei file su disco è ora estremamente semplice grazie al modulo Data Burn.

Link Aggregation
Link Aggregation è in grado di supportare più connessioni di rete e fornire ridondanza nel caso in cui uno dei link presenti problemi. Thecus NAS supporta 7 modalità, tra cui Bilanciamento del carico, Failover, 802.3ad, Bilanciamento XOR, Bilanciamento TLB, Bilanciamento ALB e Broadcast.

Antivirus
L'hardware innovativo Thecus consente di evitare problemi, ma a volte è necessario proteggere il NAS. L'aggiunta di un antivirus al bundle software già completo fornisce la necessaria protezione del software tramite la scansione dei file sul NAS e la difesa contro possibili minacce. McAfee è la più grande compagnia al mondo di tecnologia dedicata alla sicurezza e condivide lo spirito di dedizione e la qualità di Thecus. Attraverso una forte partnership, Thecus consente agli utenti di utilizzare gratuitamente il potente software McAfee sui NAS.

Cloud Backup
I cloud privati e pubblici si associano alla nuova funzionalità Thecus di backup su cloud DropBox, Amazon S3 ed ElephantDrive! Proteggete i dati in casa con RAID e con un ulteriore livello di protezione nel cloud. Basta trascinare e rilasciare i file nella cartella sul NAS per accedervi da qualsiasi computer o dispositivo mobile con DropBox, Amazon S3 o ElephantDrive.

Uscita HDMI
Trasformate il vostro NAS nel definitivo hub multimediale! L'uscita HDMI N8880U vi consente di collegare il NAS direttamente al televisore per la gestione del dispositivo.


Connettività USB 3.0
La nuova generazione in fatto di connettività è già disponibile, con velocità 10 volte superiori a quelle dell'USB 2.0. Indipendentemente dal fatto che si colleghino fotocamere digitali e smart phone, si effettui il backup di grandi hard disk esterni o si aumenti la capacità del proprio NAS, USB 3.0 farà in modo che l'operazione venga eseguita in un attimo, con velocità fino a 5 Gbit/s. La compatibilità a ritroso consente la connettività di una gran quantità di dispositivi USB 2.0 e USB 1.1, consentendo di poter disporre della migliore combinazione di velocità e accesso universale.

True Image di Acronis
Thecus propone sempre il meglio con il software di backup avanzato di Acronis. Eseguite il backup di tutti i vostri dati con One-click Protection o selezionate solo i file più importanti. Acronis offre un'interfaccia benfatta, un design semplicissimo e funzioni complete per mantenere i propri dati al sicuro

RAID multiplo
I NAS Thecus, in tema di gestione dei dati, assicurano un corretto andamento. Create volumi RAID multipli, ognuno capace di supportare diverse modalità RAID, compreso RAID 0, 1, 5, 6, 10, 50, 60 e JBOD per il vostro bilancio personale in termini di prestazione e protezione dei dati. In caso di guasto di un hard disk, cambiarlo sarà semplice grazie alla migrazione ed espansione RAID online, alla funzione hot spare e a quella auto rebuild.

File system multipli
Il supporto per file system multipli, compreso EXT3, EXT4, Btrfs e XFS, assicura al NAS Thecus flessibilità per la corretta gestione di ambienti diversi. Gli utenti possono utilizzare simultaneamente diversi file system nei volumi RAID multipli per ottenere il meglio da ciascuno di essi.


Thin-provisioning iSCSI
Si può ottenere di più dal proprio spazio di memoria grazie all'estrema velocità iSCSI e all'efficienza del Thin-Provisioning iSCSI. Collegatevi con l'iSCSI per sfruttare le massime velocità di trasferimento dati disponibili e scordatevi dello spreco di spazio su disco grazie alla funzionalità di stoccaggio flessibile assicurata dal thin provisioning.

Connettività iOS/Android
Oggi, nulla è più importante di poter disporre dei propri dati in qualunque luogo ci si trovi. Con T-OnTheGo , è possibile gestire il proprio NAS eseguendo gli upload e scaricando o effettuando lo streaming per mezzo di un dispositivo iOS o Android mentre si è in viaggio.

Rsync
Eseguire il backup dei dati è un'indiscussa necessità e ognuno ha le sue esigenze specifiche riguardo allo storage. La funzione Rsync di Thecus assicura agli utenti un'elevata flessibilità con opzione di backup remoto, un pianificatore flessibile e la stabilità di trasferimento tipica di Linux.

Quote utenti
Dividete l'enorme quantità di memoria di un NAS Thecus tra più utenti. Non importa se tra due o cento utenti, le quote utenti facilitano la partizione e la gestione dello spazio su disco.

Panoramica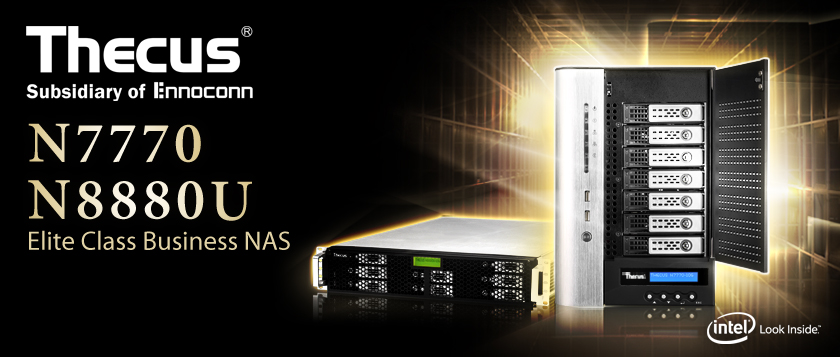 1

1/03/2016
 - Thecus® Technology Corp. today announced the availability of the 7-bay, N7770 and 8-bay, N8880U NAS to the market. These latest additions to Thecus' line of SMB/Enterprise NAS deliver high-performance, resilience, and a wide range of industry-class solutions that handle the rigorous mission critical storage needs of businesses.

 "Today's growing businesses require robust and highly dependable storage that can fulfill day to day operations, while being able to adapt to unforeseen business circumstances. The N7770 and N8880-U deliver powerful performance, stalwart reliability with outstanding value." said Florence Shih, General Manager at Thecus Technology Corp.
Powered by the Intel® Core-i3 2120 3.3GHz dual-core p rocessor and 8GB of DDR3 ECC RAM are compatible with the latest high capacity SATA drives and NAS stacking is made easy through iSCSI target volumes, allowing for streamline growth with your business. 7 modes of link aggregation are available including load balance and failover for increased performance and network resilience. These units are capable of storing up to 70 and 80 TB respectively of networked storage space, and have the ability to upgrade to 10GBe to deliver lightning fast, persistent throughput speeds. 

The N7770 and N8880U offer complete integrity in relation to data backup and protection. Thin provisioning. Replication for disaster recovery.  Snapshot technology (Btrfs only). Data Guard for disaster recovery for real-time remote or local backup, plus backup to cloud services including DropBox, ElephantDrive, and Amazon S3.  Bundled with both Acronis True Image for client data backup and system disaster recovery, and Intel Security for uncompromising data security.

These robust, rapid and reliable SMB/Enterprise storage solutions further deliver on Thecus' ethos of 'empowering professionals'.

Specifiche
1.Piattaforma hardware
Elemento
Spec.
Processore
Intel® Core-i3 2120 Processor @ 3.3GHz
USB DOM
1GB
Memoria sistema
4GB DDR3 ECC Memory
Interfaccia LAN (PCI-e)
RJ-45x2: Intel 82574L 10/100/1000 BASE-TX Auto MDI/MDI-X
WOL supportato
Interfaccia USB
Porta host USB 2.0 x6 (anteriore x2, posteriore x4) (tipo A)
Porta host USB 3.0 x2 (posteriore x2)
Uscita HDMI
Porta HDMI (posteriore x1)
Uscita VGA
Porta VGA (posteriore x1)
LED Indicator
Power:(Yellow)
System alert : Redundant power or system fan failure (Red)
HDD1-8 Activity/Fail(Green/Red)Power(Blue)
LCM Module
LCM display
4 buttons (ENTER, ESC, UP, DOWN)
Interfaccia disco
8 x SATA for internal, support SATA II / SATA III hard disk
Alimentazione
Alimentazione ridondante di almeno 400W o superiore (80plus)
PCI-e Slots
8-lane x1
Controllo termico/ventola
Thermal sensor on processor
CPU fan control
System fan control
Ventola sistema
Hot-swap (x4)
Orologio di sistema
Battery-powered up system clock
Gestione alimentazione
Accensione automatica dopo un'interruzione dell'energia elettrica
Cicalino
Adjustable frequency alarm
Tasti
Tasto di alimentazione
Tasto LCM (ENT, ESC, UP, DOWN)
Ambiente
Temperatura: 0°C - 40°C
Umidità: 0 ~ 80% di umidità relativa (senza condensa)
Telaio
Montaggio su rack 2U
Dimensioni (AxLxP)
3.54 x 16.85 x 23.07 inch (90 x 428 x 586 mm)
Carico
51.35 lb (23.29 kg)
Noise
Under 35 dB
Certificates
CE/FCC/C-Tick/VCCI/BSMI
RoHS
WEEE
Reliability test
Drop test
Vibration test
Temp 0~40°C test
2.Funzioni software
RAID
Modalità RAID
RAID 0, 1, 5, 6, 10, 50, 60 e JBOD
Ricostruzione automatica
Supportato
Hot-swap
Supportato
Hot spare
Supportato
On-line Migrazione livello RAID
Supportato
On-line Espansione livello RAID
Supportato
Crittografia volume RAID
AES256bit
Disco
Gestione alimentazione
Arresto disco durante impostazione al minimo
Scansione blocco danneggiato
Supportato
Info SMART
Supportato
Test SMART
Supportato
Roaming disco
Supporta il roaming in base al volume su un altro NAS Thecus (Richiede ThecusOS 5 64 bit)
Rete
Configurazione
Indirizzo IP fisso, indirizzo IP dinamico
Protocolli trasporto
TCP/IP/AppleTalk
Protocolli file
SMB/CIFS, HTTP/HTTPS, FTP, NFS v4, AFP
Link Aggregation
Load balance, Failover, 802.3ad, Balance-XOR, Balance-TLB, Balance-ALB, Broadcast
VLan
Supportato
TCP/IP
IPV4 & IPV6
DDNS
Supportato
SSH
Supportato
UPnP
Supportato
Inoltro porte UPnP
Supportato
Bonjour
Supportato
VPN Server
Supportato
Stato sistema
Monitor di sistema
Monitoring CPU, Memory, Temperature, fan, network utilization and protocols access user count
Gestione syslog
Send the syslog to assigned location
Act as syslog server to receive log info from other systems
Accesso dati
Supporto OS client
Windows XP/2003/2008/2012/Vista/7/8
UNIX/Linux
Mac OS X
Web Disk
Web-based file access (via Module)
FTP
Server FTP integrato con controllo larghezza di banda
FTP sicuro
Server FTP sicuro integrato con controllo larghezza di banda
TFTP
Gli utenti possono scaricare e caricare file con i programmi TFTP
Gestione download
BT download (tramite modulo Transmission)
NZB download (tramite modulo NZB)
WebDAV/WebDAV SSL
Supportato
Server stampante (IPP)
Supporta stampanti USB
Supporta un'ampia gamma di stampanti IPP
Client può gestire i task di stampa (elenco/cancella) tramite interfaccia utente web
Backup dati
Backup dati incrementale client
Acronis True image (OEM version)
Ripristino disastri sistema client
Acronis True image (OEM version)
Client System Disaster Recovery
Acronis True image (OEM version)
Data Guard
Local backup
Remote backup
Folder and iSCSI volume based
Data Burn
Burning ISO image file from NAS data
Burning ISO image file from NAS image
file Read CD/DVD ISO image file to NAS
Mac Time Machine
Supportato
Snapshot
Supportato (Btrfs only)
Blocco accesso livello
iSCSI Target/Initiator
Supporta gli initiator Microsoft/Mac OS X/Linux e i target NAS Thecus
iSCSI Thin Provisioning
Supportato
MPIO
Supportato
MCS
Supportato
Clustering
Supportato
Riserva gruppo persistente SCSI3
Supportato
Gestione alimentazione
Accensione/spegnimento programmati
Supportato
Gestione volume
RAID multiplo
Supportato
File system multiplo selezionabile
EXT3/EXT4/XFS/Btrfs
Supporto multimediale
Server iTunes
Supporta AAC, MP3 con ID3 tag, WAV
Piczza!™ Photo Server (tramite modulo)
Supporta GIF, JPG (JPEG), BMP, PNG
Supporta display EXIF
Supporta gli slide show
Server multimediale
Supporta il protocollo di streaming UPnP AV (tramite modulo)
Autenticazione utente
Utente locale
Supporta gli account utente incorporati
Gruppo locale
Supporta i gruppi di utenti incorporati
Windows ADS
Supportato
LDAP
Supportato
Access Guard
Supporto elenco bianco e nero/filtro IP
Cloud Backup
DropBox
Supportato tramite modulo
ElephantDriver
Supportato tramite modulo
Amazon S3
Supportato
File system
Tipo
Journaling File System
Lingua supportata
Supporto Unicode
Autorizzazione (ACL)
"Legge", "scrive" o "nega" i privilegi ai singoli utenti o gruppi in cartelle e sottocartelle
Quota utente
Supportato
Folder Quota
Supportato (Btrfs only)
Amministrazione
Interfaccia utente
L'interfaccia utente basata su web supporta inglese, cinese tradizionale, cinese semplificato, giapponese, coreano, francese, tedesco, italiano, spagnolo, russo, polacco e portoghese
Programma utility
nstallazione guidata di MS Windows
Windows 2000/XP/2003/Vista/7/8 e successivo
Installazione guidata di Mac OS X
Notifica via e-mail
Invia messaggi di sistema tramite e-mail all'amministratore del sistema
DDNS
Supporta una registrazione DDNS gratuita (ad esempio, xxx.thecuslink.com)
Trap SNMP
Trap-out informazioni di sistema
Applicazioni mobili (iOS/Android)
Thecus T-Dashboard
Monitoraggio e amministrazione mobile (tramite modulo)
Thecus T-OnTheGo™
Upload, download e streaming multimediale
Protezione dei dati
Scansione virus
Supporto Intel Security (tramite modulo)
Espansione di capacità
Impilabile
estendibile per 5 volumi iSCSI aggiuntivi di un altro NAS Thecus
Ridondanza di sistema
Disponibilità elevata (High Availability, HA)
Supporta ridondanza a livello di sistema
Altro
Cestino
Supportato
Server web
Supportato (tramite modulo)
Montaggio ISO
Supportato
User Access Log
Supportato
User / System Module
Supportato
Telecamera di sorveglianza IP
Supporta fino a 10 telecamere IP (tramite modulo)
Installazione Auto Module
Il server dei moduli Thecus fornisce automaticamente i moduli più recenti ed esegue l'aggiornamento grazie all'interfaccia utente.
UPS
Supportato (tramite USB)
Visualizzazione locale
X-Window tramite uscita HDMI
Disk Wipe
Supportato
Disk Clone
Supportato
Contenuti della confezione
Accessory Bag(with key)
Acronis True Image DVD
Universal CD
QIG
HDD Compatibility List Card
Sliding Shelves