Linux NAS | Ufficio domestico/casa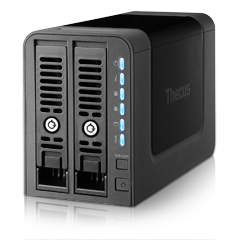 N2350
The Smart Home NAS to Connect and Secure Your Life
Caratteristiche
RAID multiplo
I NAS Thecus, in tema di gestione dei dati, assicurano un corretto andamento. Create volumi RAID multipli, ognuno capace di supportare diverse modalità RAID, compreso RAID 0, 1 e JBOD per il vostro bilancio personale in termini di prestazione e protezione dei dati. In caso di guasto di un hard disk, cambiarlo sarà semplice grazie alla migrazione ed espansione RAID online, alla funzione hot spare e a quella auto rebuild.

Facile connessione tramite DDNS
Accedendo facilmente al NAS tramite Dynamic DNS (DDNS), gli utenti possono allocare e accedere ai file del NAS da remoto tramite Internet. Poiché alcune cifre IP sono spesso difficili da ricordare, i nomi di dominio vengono utilizzati per rendere molto più comoda la gestione del NAS. Quando cambia l'indirizzo IP, il server DDNS regola automaticamente il DDNS per garantire la continua disponibilità di accesso remoto. In breve, il DDNS fornisce un comodo accesso Internet remoto ai Thecus® N2350.

Cloud Backup
I cloud privati e pubblici si associano alla nuova funzionalità Thecus di backup su cloud Amazon S3 ! Proteggete i dati in casa con RAID e con un ulteriore livello di protezione nel cloud. Basta trascinare e rilasciare i file nella cartella sul NAS per accedervi da qualsiasi computer o dispositivo mobile con Amazon S3.

Connettività USB 3.0
La nuova generazione in fatto di connettività è già disponibile, con velocità 10 volte superiori a quelle dell'USB 2.0. Indipendentemente dal fatto che si colleghino fotocamere digitali e smart phone, si effettui il backup di grandi hard disk esterni o si aumenti la capacità del proprio NAS, USB 3.0 farà in modo che l'operazione venga eseguita in un attimo, con velocità fino a 5 Gbit/s. La compatibilità a ritroso consente la connettività di una gran quantità di dispositivi USB 2.0 e USB 1.1, consentendo di poter disporre della migliore combinazione di velocità e accesso universale.

File system multipli
Il supporto per file system multipli, compreso EXT4 e XFS, assicura al NAS Thecus flessibilità per la corretta gestione di ambienti diversi. Gli utenti possono utilizzare simultaneamente diversi file system nei volumi RAID multipli per ottenere il meglio da ciascuno di essi.

Thin-provisioning iSCSI
Si può ottenere di più dal proprio spazio di memoria grazie all'estrema velocità iSCSI e all'efficienza del Thin-Provisioning iSCSI. Collegatevi con l'iSCSI per sfruttare le massime velocità di trasferimento dati disponibili e scordatevi dello spreco di spazio su disco grazie alla funzionalità di stoccaggio flessibile assicurata dal thin provisioning.

Quote utenti
Dividete l'enorme quantità di memoria di un NAS Thecus tra più utenti. Non importa se tra due o cento utenti, le quote utenti facilitano la partizione e la gestione dello spazio su disco.
Panoramica
 
03/29/2017 - Thecus ® Technology Corp today unveiled the N2350. An upgraded version of the N2310, this 2-bay full-featured file server brings stalwart security and effortless connectivity to the vital digital data of home and office users. At a superior price to performance ratio, increasing your productivity and controlling your data has never been easier.

Specifications

The Thecus N2350 is powered by a dual core Marvell Armada 385 1.0GHz CPU, and equipped with 1GB of resilient DDR4 RAM. DDR4 is the next evolution in DRAM, delivering higher performance through higher speed and more robust control features while improving energy efficiency with a reduction in memory power demand. The modernized hardware makes the N2350 one of the most energy efficient NAS in its class, helping businesses and home users to save energy.

"The N2350 provides all the essential storage services you need from a NAS, at a very attractive price point with an unprecedented level of energy efficiency. This Thecus NAS server can be quickly assimilated into any home and office environment, to delivering greater connectivity to users from day one," says Florence Shih, General Manager at Thecus Technology Corp.

ThecusOS 7.0

A transformative difference in relation to its predecessor is the addition of ThecusOS 7.0, Thecus' latest OS. This intuitive and feature-rich OS allows for significant advancements in productivity, flexibility, and performance. Key new features include Photo Center, File Center, and Thecus App Center, with an extensive variety of apps for modern digital lifestyles including the Surveillance Station.  

Data Security

The Thecus N2350 offers complete data backup and protection capabilities: Thin provisioning, replication for disaster recovery, Remote Backup or disaster recovery (for real-time remote or local backup) as well as backup to Amazon S3 cloud service.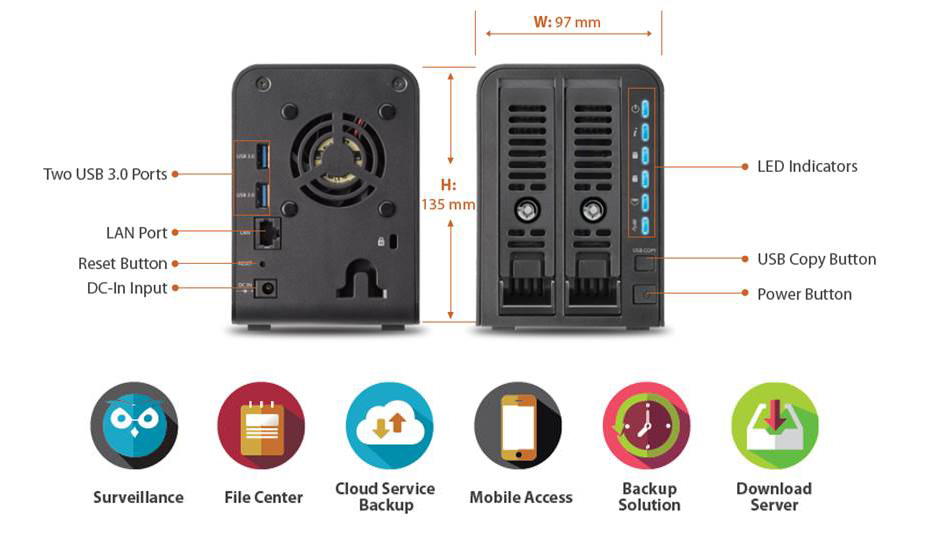 Mobile Access

The N2350 provides further connectivity with two mobile apps. Thecus Connect™ allows users to gain live access to their NAS unit, enabling them to monitor the most up-to-date information. Orbweb.me™ is a P2P module that allows users to easily view, stream and manage files in their NAS anytime and anywhere. No IP address is required.

The N2350 is purposely designed to meet the essential needs of small office and home users, providing everything they require without any unwanted extras. With an upgrade in processor performance, the next generation DDR4 RAM, and the latest ThecusOS 7 software, the N2350 is a highly attractive option in the two-bay NAS market arena.
 
Specifiche
1. Piattaforma hardware
Elemento
Spec.
Processore
Marvell Armada 385 Dual Core 1GHz SoC
Memoria sistema
1GB DDR4 on board
Memoria flash
512MB NAND Flash
Interfaccia LAN (PCI-e)
RJ-45x1: 100/1000 BASE-TX Auto MDI/MDI-X
WOL supportato
Interfaccia USB
Porta host USB 3.0 (posteriore x2)
LED Indicator
1. Alimentazione, sistema occupato (blu) Solid avanti fino a SW coinvolti, dopo SW coinvolto ha portato lampeggiano per indicare che l'alimentazione sul processo. cambiamento di stato a solido sul sistema mentre pronto.
2. HDD1-2 Attività / Fail (Blink blu / arancio)
3. LAN (Link: Blu fisso; attività: Blink blu)
4. USB (installata: solido in poi, la copia del LED: Blink blu, copia fallito: arancione)
5. Lo stato del sistema (i): Per il sistema uso diagnostico. (Blu: blink mentre la modalità diagnostica calcio-in, mentre il solido diagnostico completato, se si è verificato l'errore, USB ha condotto con led arancione acceso)
Interfaccia disco
2 x SATA per interno, supporta SATA II / III SATA disco rigido
HDD barcollò
supportato
Alimentazione
Alimentatore da 40W
Orologio di sistema
Orologio sistema batteria di backup
Tasti
Pulsante di accensione
pulsante di copia USB
Pulsante di reset (Reset to factory default)
Ambiente
Temperatura: operativa da 5°C a 40°C
Umidità: 0 ~ 80% di umidità relativa (senza condensa)
Telaio
2bays Base torre
Dimensioni (AxLxP)
135 x 97 x 207 (mm)/5.33 x 3.83 x 8.14 (in)
Rumore
sotto 20dB
Certificates
CE/FCC/C-Tick/VCCI/BSMI
RoHS
WEEE
Test di affidabilità
Test Consumo energetico
Test dB Noise
Temp prova 0 ~ 40 ° C
2. Funzioni software
RAID
Modalità RAID
RAID 0, 1 e JBOD (Support multiple RAID volumes, each volume support up to 16TB)
Ricostruzione automatica
Supportato
Hot-Swap
Supportato
Hot Spare
Supportato
Espansione RAID online
Supportato
Disco
Gestione alimentazione
Arresto disco durante impostazione al minimo
Scansione blocco danneggiato
Supportato
Info SMART
Supportato
Test SMART
Supportato
Roaming disco
Supporta il roaming in base al volume su un altro NAS Thecus (OS7)
Disk Wipe e Clone
Supportato
Secure Disk
Supportato
Rete
Configurazione
Indirizzo IP fisso, indirizzo IP dinamico
Protocolli trasporto
TCP/IP/AppleTalk
Protocolli file
SMB/CIFS, HTTP/HTTPS, FTP, NFS v4, AFP
TCP/IP
IPV6 & IPV4
DDNS
Supportato
SSH
Supportato
UPnP
Supportato
Inoltro porte UPnP
Supportato
Bonjour
Supportato
VPN Server
Supportato
vLan
Supportato
Stato sistema
Monitor di sistema
Monitoraggio di CPU, memoria, temperatura, ventola, uso della rete e conteggio protocolli di accesso utente
Gestione syslog
1.Invio di syslog alle posizioni assegnate
2.Funzione di server syslog per ricevere info log da altri sistemi
Accesso dati
Supporto OS client
Windows XP and after
Windows Server 2003 and after
UNIX/Linux
Mac OS X
FTP
Server FTP integrato con controllo larghezza di banda
FTP sicuro
Server FTP sicuro integrato con controllo larghezza di banda
TFTP
Gli utenti possono scaricare e caricare file con i programmi TFTP
Gestione download
BT download (tramite modulo Transmission)
WebDAV/WebDAV SSL
Supportato
Server stampante (IPP)

Supporta stampanti USB
Supporta un'ampia gamma di stampanti IPP
Client può gestire i task di stampa (elenco/cancella) tramite interfaccia utente web

Backup dati
Local folder/iSCSI Backup
Supportato
Remote folder/iSCSI Backup
Supportato
Mac OS X Time Machine
Supportato
System Failover
Supportato
Blocco accesso livello
iSCSI Target/Initiator
Supporta gli initiator Microsoft/Mac OS X/Linux e i target NAS Thecus
iSCSI (iSCSI Thin Provisioning)
Supportato
Gestione alimentazione
Accensione/spegnimento programmati
Supportato
Gestione volume
RAID multiplo
Supportato
File system multiplo selezionabile
EXT4/XFS
Supporto multimediale
Server iTunes
Supporta AAC, MP3 con ID3 tag, WAV
Autenticazione utente
Utente locale
Supporta gli account utente incorporati
Gruppo locale
Supporta i gruppi di utenti incorporati
Windows ADS
Supportato
LDAP
Supportato
Guardia di accesso
Supporta Black & White list / IP Filter
User Profile
Photo Center
Supportato
File Center
Supportato
APP Center
Supportato
Surveillance Center
Supportato
Cloud Backup
Amazon S3
Supportato
File System
Tipo
Journaling File System
Lingua supportata
Supporto Unicode
Autorizzazione (ACL)
"Legge", "scrive" o "nega" i privilegi ai singoli utenti o gruppi in cartelle e sottocartelle
Quota utente
Supportato (exclude Btrfs)
Amministrazione
Interfaccia utente
L'interfaccia utente basata su web supporta inglese, cinese tradizionale, cinese semplificato, giapponese, francese, tedesco, italiano, spagnolo, russo
Programma utility

Installazione guidata di MS Windows
Supporta Windows 8/7/Vista/2003/XP/2000
Installazione guidata di Mac OS X

Notifica via e-mail
Invia messaggi di sistema tramite e-mail all'amministratore del sistema
Trap SNMP
Trap-out informazioni di sistema
Applicazioni mobili (iOS/Android)
Thecus Connect™ (Android)
monitoraggio mobile e amministrazione (tramite modulo)
Orbweb.me
File Esplora, il monitoraggio webcam via connessione P2P
Altro
Cestino
Supportato
Montaggio ISO
Supportato
Contenuti della confezione
Ethernet Cable
Power Adaptor
Universal CD
QIG
Warranty Card
HDD Compatibility List Card