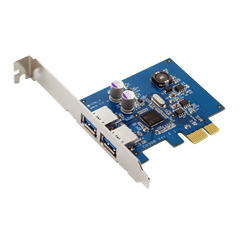 CU30N
SuperSpeed USB 3.0 HBA
Caratteristiche
Get Connected
Enter a new generation of high-speed connectivity with the CU30N's two USB 3.0 ports. Plug in and experience transfer speeds up to ten times that of USB 2.0.
Full Speed Ahead
Supporting four modes of transfer including Low-speed (1.5Mbps), full-speed (12Mbps), high-speed (480 Mbps), and super-speed (5Gpbs), the CU30N is compatible with a wide range of USB devices.
Full Compliance
Utilizing the NEC μPD720200 Processor, the CU30N is fully compliant with both USB 3.0 and xHCI (Extensible Host Controller Interface) specifications, ensuring complete interoperability with USB 3.0-compliant devices.
Easy to Install
Simply plug the CU30N into any PCI Express x1, x4, x8 and x16 slot to get your system up and running with USB 3.0 - no external power source required!
Multiple OS Compatibility
The CU30N is fully compatible with systems running Windows 7/Vista/XP operating systems in both 32bit and 64bit versions.
Panoramica
Oggi Thecus® Technology, azienda innovatrice dei sistemi d'archiviazione, è lieta di presentare un nuovo prodotto della sua linea di prodotti in continua espansione per la vita digitale: la scheda CU30N. Dotata di due porte USB 3.0 totalmente compatibili con gli standard USB 2.0 e 1.1, la scheda CU30N è il modo più semplice per portare il sistema PC nell'era USB 3.0. Con velocità di trasferimento dei dati fino a 5 Gbps, il protocollo USB 3.0 concretizza un nuovo standard per la connettività ad alta velocità.
CU30N è una scheda d'espansione PCIe full-height compatibile con gli alloggi PCI Express x1, x4, x8 e x16. L'installazione è estremamente facile e non necessita di alimentazione esterna per il suo funzionamento. Dopo l'installazione, la scheda CU30N dota il sistema di due porte USB 3.0 che sono pronte per il collegamento con qualsiasi tipo di dispositivo USB 3.0.
Per quanto riguarda l'hardware, la scheda CU30N utilizza il processore NEC μPD720200 - il primo controller host USB al mondo compatibile con le specifiche USB 3.0 e xHCI. Grazie al processore NEC μPD720200, la scheda CU30N supporta quattro modalità di trasferimento, includendo low-speed (1,5Mbps), full-speed (12Mbps), high-speed (480 Mbps), e super-speed (5Gpbs).
La scheda CU30N può anche essere usata per adeguare alcuni NAS Thecus® alla connettività USB 3.0. Attualmente, la scheda CU30N può essere installata sui seguenti modelli:
-N4200
-Serie N7700
-Serie N8800
La scheda CU30N è totalmente compatibile con i sistemi operativi Windows 7 / Vista / XP 32/64 bit.
"Il protocollo USB 3.0 è sicuramente lo standard di connettività del prossimo futuro e con la scheda CU30N gli utenti possono sfruttare questo nuovo standard già da oggi", dichiara Florence Shih, Direttore Generale della Thecus® Technology. "La scheda CU30N insieme al nostro ultimo DAS portatile D0204 è la giusta soluzione per provare il futuro dell'archiviazione."
Specifiche
1. Hardware Platform
Item

Spec

Connectors

2 x USB 3.0 ports.
Backward compatible with USB 2.0/1.1 interface.

Interface

PCI Express x1 interface
Compatible with PCI Express x1, x4, x8, and x16 slots

Power Supply

No external power source required

Dimension

Full-height
2. Software Functions
| | |
| --- | --- |
| Item | Spec |
| PCIe Gen2 bandwidth | Supported |
| Data rate | Low-speed (1.5 Mbps) / Full-speed (12 Mbps) / High-speed (480 Mbps) / Super-speed (5 Gbps) |
| Compatible with Thecus NAS PCI-e Slot | N4200 / N7700 Series / N8800 Series |
| Operating Systems Supported | Windows 7/Vista/XP 32/64bit |
Contenuti della confezione
| | | |
| --- | --- | --- |
| | | |
| Universal CD | QIG | Warranty Card |