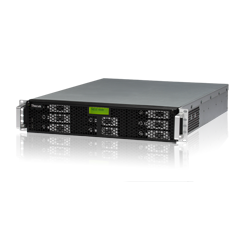 NVR88
Total NVR Storage Solution
Caratteristiche
All-in-One System Integration

Get your storage center, video capture card, network server, and software all in the same place. Thecus NVR are ready to go right out of the box: just create RAID, install the NVR plug-in, and you're already up and running in less than 30 minutes. Camera Setup Cloning lets you save more time by using the same settings for different cameras with the click of a button.

Multi Screen Operation

See everything at once with drag and drop functionality across multiple screens. Each screen is capable of displaying multiple camera views, full screen, or both.

Enhanced Camera Views and Remote PTZ

Remote PTZ (pan/tilt/zoom) control allows you to adjust the viewing angle and zoom of a camera from monitoring stations anywhere in the world. Also, take better control of your cameras with adjustable aspect ratios, HDTV support, stretching and cropping of video, and advanced port control.

Motion Detection

Motion detection functionality gives you the ability to select a time frame during which motion detection will be activated. You can also limit motion detection to a portion of the viewing field in order to monitor very specific items or areas and recording their surroundings when these areas are activated. Events are denoted with a "red triangle" for easy recognition in the calendar archive view.

Data Protection Algorithm
Recorded data is protected by a proprietary algorithm to prevent tampering or editing. This makes all recorded video, both from within the archive or exported, permissible in a court of law. Playback of original recordings is only allowed through the NVR video archive.

Multiple Format Support
To keep a separate record of events of your choice, a variety of formats are supported for exporting video including MJPEG, MPEG-4, H.264 and MxPEG.

Event Management System

Event alarms and detailed records work with motion detection and video analytics to keep you on top of everything that is happening. These alarms and records are easily configured, accessed, and searched through with the Event Management System. Video streams can be marked with advanced time stamps for powerful searching and analysis, and events can be prioritized to make your surveillance system react only to specific actions, creating fewer false positives.

HTTPS Support*
You can choose to encrypt communication between your cameras and your NVR to keep away from prying eyes.

Enhanced Built-In iCAT Video Analysis*

Netavis' advanced video analysis software is capable of people and object counting, Smart Tripwire analysis, illegal starting and stopping object analysis. Get improved performance with dual streaming video analytics and configure automatic export of iCAT statistical data from your NVR.

Adaptive Balanced Streaming*

This unique ABS technology is capable of supporting megapixel cameras serving in limited bandwidth environments. This technology keeps your image quality high even if your bandwidth is low.

*Requires Netavis Observer Extended or above
Panoramica
Oggi Thecus® Technology, uno dei leader delle soluzioni dello storage digitale, annuncia la nuova linea di sistemi Thecus® Networked Video Recording (NVR, registratori video di rete). Ideati per fornire prestazioni immediate, robuste funzioni e un'ampia capacità di storage, i sistemi NVR di Thecus® sono la scelta ideale  degli utenti che richiedono una soluzione di sorveglianza e registrazione video potente ma flessibile.
Le soluzioni NVR Thecus® offrono davvero molti dispositivi racchiusi in uno: un registratore video di rete, un sistema di monitoraggio in tempo reale ed una unità di storage in rete. Disponibili per supporti rack o computer desktop, per permettere agli utenti di scegliere la loro configurazione ideale. Ciascun dispositivo NVR Thecus® può funzionare con più videocamere alla volta, e quindi consente il monitoraggio di  più luoghi con un solo sistema. Oltre a ciò, le nuove soluzioni NVR di Thecus®' offrono monitoraggio e registrazione in tempo reale, sono in grado si supportare diversi formati di file video, garantendo la massima sicurezza ed efficacia nella sorveglianza.
Facendo parte della gamma Thecus®, le soluzioni NVR ,in fatto di capacità di storage, non sono seconde a nessuno. Tutte le unità sono dotate di diversi alloggiamenti per dischi rigidi SATA, per garantire la massima capacità di storage per la gestione di moltissime ore di riprese video di qualità professionale. Le modalità RAID selettive sono di serie e aiutano a salvaguardare i contenuti video archiviati sempre. E per fornire agli utenti l'interfaccia software migliore in assoluto, le soluzioni NVR Thecus® avranno in dotazione il software di sorveglianza NETAVIS Observe, per una combinazione imbattibile di hardware migliore sul mercato e software all'avanguardia.
| | | |
| --- | --- | --- |
| Model Name | HDD Bays | Form Factor |
| NVR42 | 4 | Desktop |
| NVR55 | 5 | Desktop |
| NVR77 | 7 | Desktop |
| NVR46 | 4 | 1U Rackmount |
| NVR88 | 8 | 2U Rackmount |
"Con alcune delle soluzioni di storage di rete più avanzate oggi sul mercato, molti clienti hanno espresso il desiderio di poter avere una soluzione NVR di Thecus" ha detto Florence Shih, General Manager di Thecus® Technology. "Con l'annuncio di oggi, gli utenti ora hanno una nuova linea di dispositivi  NVR ideati secondo i canoni di Thecus®, che da sempre garantisce massime prestazioni,  alta qualità e funzionalità "
Specifiche
1.Piattaforma hardware
Elemento

Specifica

Memoria di sistema

4GB DDR2 SDRAM

Interfaccia LAN

RJ-45x2: Intel 82574 10/100/1000 BASE-TX MDI/MDI-X automatico
Supporto WOL

Indicatore LED

Alimentazione (giallo)
Allarme di sistema: alimentazione ridondante o guasto ventole di sistema (rosso)
Attività/Guasto dischi rigidi 1-8 (Verde/Rosso)

LCM

Carattere display 2x16, visualizza informazioni e lo stato del sistema.
8 slot PCI-e
1

Alimentazione

Alimentazione da 350W supporta 8 HDD da 2TBe oltre

Interfaccia dischi

SATA x8 tramite backplane

Interfaccia USB

4 porte host USB 2.0 (2 anteriori, 2 posteriori) (Tipo A)

Controllo termico/Ventole

Sensore termico su temperatura processore
Ventole di sistema
4 scambiabili a caldo
Pulsanti
Pulsante di accensione (Anteriore, spegnimento controllato tramite software)
Tasto LCM (Enter, Esc, Su, Giù)
Pulsante ripristino di sistema
RS232
1 (Per UPS)

Ambiente

Temperatura: da 5°C a 40°C
Umidità: da 0 a 80 % di umidità relativa (Senza condensa)
2. Funzioni software
Sorveglianza

Architettura

Sistema monoserver

N. max. di utenti

3

N. max. di telecamere

16

Audio

Audio multicanale

Viste

Fino a 10 x 10 configurazioni, funzioni casuale e percorso

PFS regolabile

sì

Risoluzione massima

5 Megapixel

Formati video

MJPEG, MPEG-4, H.264 e MxPEG (solo Mototix)

Esportazione

avi, jpeg, safe

Rilevamento movimento NVR

sì

Controllo PTZ

sì

Monitoraggio multiplo/client

Sì/sì

Gestione eventi

sì

Notifica

E-mail

Accesso remoto

sì

Accesso browser

Sì (completo)

Architettura

Client/Server

RAID

Modalità RAID

RAID 0, 1, 5,6,10,JBOD

Ricostruzione automatica

Supportato

Hot Swap

Supportato

Ricambio hot swap

Supportato

SMART

Supportato

Disco

Gestione energetica

Riduce la velocità di rotazione dopo l'intervallo di tempo specificato

Di rete

Configurazione

Indirizzo IP fisso, indirizzo IP dinamico

Protocolli di trasporto

TCP/IP

Protocolli di file

SMB/CIFS, FTP

Accesso ai dati

Supporto sistema operativo Client

Windows 2000/7/XP/2003/Vista/7

FTP

Supportato

Backup dei dati

Copia dispositivo USB su unità NVR88

tramite LCM per controllo

Autenticazione utenti

Utente locale

Supporta account utenti integrati

Gruppo locale

Supporta gruppi di utenti integrati

File System

Tipo

File system con inserimento nel journal

Supporto linguaggio

Supporto Unicode

Autorizzazione (ACL)

Opzioni Lettura, Scrittura o Rifiuta per singoli utenti o gruppi per la cartelle condivise e per il livello cartelle

Amministrazione

Amministrazione multilingue basata su web (Predefinita auto), solo per UI di storage

L'interfaccia di gestione server basata su web supporta inglese, cinese tradizionale, cinese semplificato, giapponese, coreano, francese, tedesco, italiano, spagnolo, russo, polacco e portogallo.

Programmi di utilità

Procedura guidata per la configurazione di MS Windows
Supporta Windows 2000/XP/2003/Vista/7

Notifica per email

Invia messaggi di sistema tramite email all'amministratore di sistema
Contenuti della confezione

Accessory Bag(with key)
Thecus TV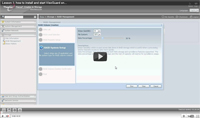 Lesson 1: how to install and start VisoGuard on your Thecus NVR?
This lesson will teach you the basics of your NVR in 5 minutes: setting up the network configuration, the admin password, creating your first RAID volume and finally launch Thecus VisoGuard solution. The RAID creation time (which can varies depending on RAID levels, amount of disks and NVR model) have been cut for the video. No specific knowledge is required but you'll need a Thecus VisoGuard NVR plugged into your local network and a computer with Thecus Wizard, Java and an Internet Browser installed.