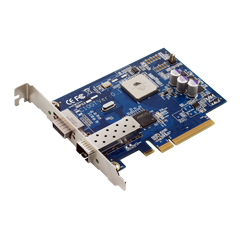 C10GT
Connettività 10Gb Ethernet di ultima generazione
Caratteristiche
Abilità la connettività 10Gb Ethernet
Con un processore Tehuti Luxor TN3020-D, il C10GT garantisce la compatibilità del sistema con reti 10Gb Ethernet di ultima generazione. Questo incremento della larghezza di banda offre sorprendenti prestazioni di trasferimento file e apre l'accesso a larga banda sia al server che ad applicazioni di archiviazione.

Interfaccia a doppio cavo
Il C10GT dispone di un'interfaccia univoca a doppio cavo con una porta CX4 per cavi in rame e una porta SFP+ in grado di accogliere sia i cavi in rame che in fibra ottica. Il C10GT è pertanto in grado di sostenere reti con cavi in rame e in fibra ottica.

Alta compatibilità
Il C10GT è completamente compatibile con una vasta gamma di protocolli, tra cui standard VLAN IEEE 802.3ae, IEEE 802.3ak e IEEE 802.1q. Inoltre, con il supporto per diversi sistemi operativi tra cui Windows® Server 2003, Windows Server 2008, Windows XP, Windows Vista e Linux, il C10GT è facilmente integrabile in qualsiasi rete.

Supporto WMI completo
Gli amministratori di sistema saranno soddisfatti della compatibilità del C10GT con Windows Management Interface (WMI), che consente loro di gestire i computer locali e remoti in modo rapido e conveniente.

Aggiornamento del NAS Thecus®
Il C10GT è un adattatore PCI-e ad altezza totale che può essere installato in slot PCI Express x4 e x8 slot, il che implica una elevata compatibilità con una vasta gamma di sistemi. Meglio ancora, il C10GT può essere installato anche in NAS Thecus® selezionati che supportano slot PCI Express x4 o x8, portando il NAS Thecus® nel mondo dei moduli 10Gb Ethernet.
Panoramica
As digital files grow larger in size, the amount of data being transferred over networks is ever increasing. Today, Thecus® Technology is pleased to announce the C10GT 10Gb Ethernet PCI-e Adapter. Featuring lightning-fast transfer speeds, dual cable connectivity, and simple installation and setup, the C10GT is a high-speed 10Gb ready network card designed to help users affordably take full advantage of the new upcoming 10Gb Ethernet standard.
The C10GT is a very capable and feature-packed network adapter. Powered by the enterprise-class Tehuti Luxor TN3020-D processor, the C10GT delivers efficient high-bandwidth access to server and storage applications, while requiring relatively low power for operation. Another standout feature of the C10GT is its dual cable interface, which features one CX4 port and one SFP+ port – perfect for accommodating both copper and fiber optic cabling.
On the software side, the C10GT is an extremely flexible device which is easily integrated into almost any network environment. It is compliant with IEEE 802.3ae, IEEE 802.3ak, and IEEE 802.1q VLAN standards, and supports a multitude of widely-adopted operating systems, including Windows® Server 2003, Windows Server 2008, Windows XP, Windows Vista, and Linux. The C10GT is also compatible with the Windows Management Interface (WMI), allowing administrators to easily manage both local and remote computers.
This full-height PCI-e adapter is easily installed in both PCI Express x4 and x8 slots, and can even be used to upgrade the following Thecus® NAS devices to 10Gb Ethernet capability:
-TopTower N6850
-TopTower N8850
-TopTower N10850
-N16000V
-N16000
-N7700PRO
-N7700+
-N8800PRO
-N8800+
"Next-generation 10Gb Ethernet is going to be the new standard for enterprises of the future," said Florence Shih, Thecus® Technology General Manager. "With our new C10GT, businesses can fully leverage the speed and convenience of this advanced technology today."
Specifiche
1. Hardware Platform
Item

Spec

PCI Express Host Bus Interface

Compatible with PCI Express x4, x8 slots

Interface

SFP+ x1
CX4 x1

Cabling Type

SFP+ Optical GBIC transceiver
SFP+ Copper Cable
CX4 (10G) Copper Cable

LED indicator

LINK : Solid Green LED

Power Consumption

3.2W (Dual Port)

Dimension

Full-height

Operating Temperature

0 ºC to 70 ºC

Storage Temperature:

-40ºC to 85 ºC

Certifications

RoHS compliant, CE, FCC, C-Tick, VCCI, BSMI

2. Software Functions
Item

Spec

Compatible with Thecus NAS
PCI-e Slot

N7700PRO/ N7700+ /N8800PRO/N8800+

MAC Interfaces

IEEE 802.3ae, IEEE 802.3ak, IEEE 802.1q
VLAN compliance
Jumbo Frame support (up to 16k)
MIB statistics

Operating Systems Supported

Windows® Server 2003, Server 2008, XP, Vista
Linux 2.4.X Linux 2.6.X, Redhat Distributions, Linux 64-bit
Multiple queues management
Windows Management Interface (WMI)
Contenuti della confezione
| | | |
| --- | --- | --- |
| | | |
| Universal CD | QIG | Warranty Card |