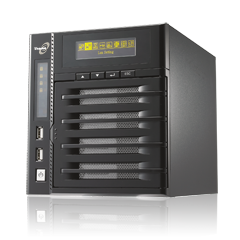 N4200PRO
Il NAS Turbo-Charged Zero-Crash
Riconoscimenti/Recensioni
Caratteristiche
Prestazione di gran lunga migliorata
Unendo la potenza del processore Intel® Atom™ D525 e la velocità della memoria DDR3 di prossima generazione, l'N4200PRO fornisce una prestazione che ha dell'incredibile. Trasferimenti file più veloci, comandi eseguiti più rapidamente e possibilità di connessione da un maggiore numero di client

Protezione Dual DOM
E' sempre consigliabile poter contare su di una copia del software di sistema .Se dovessero verificarsi problemi tutti i dati potrebbero essere a rischio. Grazie alla ridondanza del Dual DOM OS che offre un DOM secondario in grado di riprogrammare automaticamente quello primario non avremo nessun problema in caso di malfunzionamento

Mini-UPS integrato
Grazie al mini UPS integrato dell'N4200PRO, nemmeno l'assenza di corrente costituirà un problema. Il mini-UPS fornisce infatti l'alimentazione necessaria all'N4200PRO per salvare i dati non ancora scritti sui dischi rigidi ed effettuare un arresto in sicurezza.

Comodità di un doppio display
Per controllare l'andamento del proprio NAS, basterà effettuare un controllo sul display LCD sull'N4200PRO sul quale leggere comodamente le informazioni sullo stato, inclusa l'attività del disco rigido, della LAN e dello stato di copiatura USB. Il nitido display OLED consente addirittura di cambiare diverse impostazioni del sistema senza l'uso di un computer.

Sicurezza solida come la roccia
N4200PRO tiene al sicuro i vostri dati grazie a svariate modalità RAID selezionabili, tra cui RAID 0, 1, 5, 6, 10 e JBOD. Anche cambiare i dischi rovinati sarà un'operazione semplicissima grazie al suo hot-swap, hot-spare, alla migrazione al RAID on-line, all'espansione, nonché alle sue capacità di auto-rebuild. Ed in caso servisse una maggior protezione, è disponibile anche il la criptazione del volume RAID AES 256 bit.

Svariate opzioni di backup
Effettuate il backup dei vostri dati con le diverse opzioni di N4200PRO che comprende il dispositivo Thecus® Backup Utility, la replicazione remota Nsync, il supporto scatto fotografico ed anche il software di backup OEM Acronis®.
Panoramica
The original N4200 made huge waves in the hardware community with its innovative features and functionality. Today, Thecus® Technology, the Creator in Storage, is proud to announce its predecessor: the N4200PRO. Packing an all-new Intel® Atom™ Processor and DDR3 memory, the N4200PRO takes the original Zero-Crash NAS and puts performance into overdrive.
Performance freaks are going to love the new N4200PRO. Powering the N4200PRO is an Intel® Atom™ D525 Processor coupled with 1GB of high-speed DDR3 memory. This combination of one of the latest Atom™ CPUs and next-generation DDR3 memory delivers vastly increased file transfer performance, more concurrent connections, and an overall smoother operating experience. This boosted processing power will come into play when managing the N4200PRO's four SATA bays' worth of storage, which enables a maximum of 8TB of storage space. Plentiful storage management options including RAID 0, 1, 5, 6,10, JBOD are present, as are convenient features such as hot-swap, hot-spare, online RAID migration and expansion, as well as auto-rebuild. 
Of course, the N4200PRO brings over the most popular features from its predecessor. Dual DOM OS Redundancy protects your system's critical software with a secondary DOM that reprograms the primary DOM should it fail for any reason. A Mini-UPS protects the N4200PRO from sudden power outages, allowing the system to store unwritten data to the hard disks and safely shut down. The N4200PRO also retains the dual displays of the N4200, sporting an LCD display for system information, and a colorful OLED display that allows you to change a variety of system settings without having to boot a single computer. Finally, a full suite of useful features including an iTunes Server, Photo Web Server, Media Server, FTP Server, Print Server, Download Manger and more are included with the N4200PRO, making it not only one of the most powerful, but also the most robust storage devices available today.
"Upgraded with a next-generation Intel® Atom™ processor and DDR3 memory, we've taken the original Zero-Crash NAS and made it even better," said Florence Shih, Thecus® Technology General Manager. "Packing the latest technology and signature Thecus® features and friendliness, the N4200PRO is by far the most powerful, feature-packed, and secure four-bay NAS we've ever devised."
Specifiche
1.Piattaforma hardware
Elemento

Specifica

Processore

Processore Intel® Atom™ D525

Memoria di sistema

1 GB DDR-3 SDRAM

Interfaccia LAN

RJ-45x2 : 10/100/1000 BASE-TX Auto MDI/MDI-X

Indicatore LED

Alimentazione dischi rigidi, attività (giallo) / guasto (rosso)
Attività LAN_WAN (verde)
USB_COPY_ occupato (Blu)
USB_COPY_ guasto (rosso)

Modulo OLED

Display OLED 2,8"
4 pulsanti (ENTER, ESC, SU, GIÙ)
Supporto per più lingue

Alimentazione

Adattatore esterno ingresso 19 V (supporta 2 TB e oltre, 4 dischi rigidi)

Interfaccia dischi

4 SATA per interno, 2 eSATA per esterno

Slot di espansione

1 PCI-e

Interfaccia USB

6 porte host USB 2.0 (2 anteriori, 4 posteriori) (Tipo A)

Controllo termico/Ventole

Sensore termico sul sistema e temperatura del processore
Velocità della ventola controllata dalla temperatura

Orologio tempo reale

Orologio sistema batteria di backup

Pulsanti

Tasto d'alimentazione
Ripristina sul pulsante predefinito di fabbrica

Telaio

Telaio metallico

Batteria agli ioni di litio

Modulo batteria di backup integrato (Mini-UPS)

Temperatura

Temperatura: da 5 °C a 40 °C
Umidità: da 0 a 80 % di umidità relativa (Senza condensa)

2. Funzioni software
RAID

Modalità RAID

RAID 0, 1, 5, 6,10,JBOD

Ricostruzione automatica

Supportato

Swap a caldo

Supportato

Ricambio a caldo

Supportato

Migrazione RAID online

Supportato

Espansione RAID online

Supportato

Informazioni SMART

Supportato

Test SMART

Supportato

Codifica volume RAID

AES 256bit

Disco

Gestione energetica

Rallentamento rotazione unità automatico configurabile

Roaming

Supporta il roaming su altri NAS N4200PRO

Scansione blocchi negativi

Supportato

Gestione volumi

RAID multiplo

Supportato

File system selezionabili

Ext3 / XFS / ZFS

Di rete

Configurazione

Indirizzo IP fisso, indirizzo IP dinamico

Modalità condivisione IP

Può essere attivato/disattivato

Aggregazione connessione

802.3ad, bilanciamento del carico, failover, bilanciamento-XOR, Bilanciamento TLB, Bilanciamento ALB

Protocolli di trasporto

TCP/IP, Appletalk

Protocolli di file

SMB/CIFS, HTTP/HTTPS, FTP, NFSv3, AFP

Accesso ai dati

Supporto sistema operativo Client

Windows XP and after
Windows Server 2003 and after
UNIX/Linux
Mac OS X

WebDisk

Accesso ai file basato su Web

FTP

Server FTP integrato con controllo di larghezza di banda

FTP sicuro

Server FTP sicuro integrato con controllo di larghezza di banda

Download Manager (modulo)

HTTP / FTP / BT / eMule / NZB

Server di stampa (IPP)

Supporto stampanti USB
Supporta diverse stampanti IPP
Il Client può gestire le attività di stampa (elenca/elimina) tramite interfaccia utente su web

Server TFTP

Gli utenti possono scaricare e caricare file con programmi TFTP

Backup dei dati

Copia USB tramite funzionamento OLED

Copia il contenuto del dispositivo di archiviazione di massa USB su un punto specifico del NAS

Backup dei dati del NAS su disco USB esterno (modulo)

Incrementale, con pianificazione, supportato

Incrementale da client con pianificazione

Acronis True Image (versione OEM)

Sistema Client per il disaster recovery

Acronis True Image (versione OEM)

Modulo batteria di backup (Mini-UPS)

Situazioni contingenti, alimentazione da batteria

Replicazione remota NAS

tramite Nsync proprietario di Thecus

Replicazione remota NAS (modulo)

Mediante Rsync, per replicare i dati tra due sistemi.

Istantanea

Supportato

Mac Time Machine

Supportato

Copia USB bi-direzionale
(Modulo)

Supportato

Accesso livello blocchi

iSCSI Target

Supporta Microsoft/Mac/Linux Initiator

iSCSI initiator

Per impilabile con N4200/N4200Eco/N4200PRO/N5200PRO/1U4600/N5500/ N7700 series/N8800 series

iSCSI Thin Provisioning

Dimensioni virtuali regolabili fino a 16 TB

Supporto per contenuti multimediali

Server iTunes

Tipi di file supportati: AAC, MP3 w/ ID3 tag, WAV

Server Web per foto

Tipi di file supportati: GIF, JPG (JPEG), BMP, PNG
Supporto visualizzazione EXIF
Supporto presentazioni

Server multimediale

Supporto protocollo uPnP per lo streaming AV

Autenticazione utenti

Utente locale

Supporta account utenti integrati

Gruppo locale

Supporta gruppi di utenti integrati

Windows NT/ADS

Supportato

File System

Tipo

File system con inserimento nel journal

Capacità

Multi-terabyte

Supporto linguaggio

Supporto Unicode

Autorizzazione

Opzioni di Lettura, Scrittura o Rifiuto su singoli utenti o su gruppi

Autorizzazione (ACL)

Opzioni Lettura, Scrittura o Rifiuta per singoli utenti o gruppi per la cartelle condivisi e per le sotto-cartelle

Amministrazione

Amministrazione multilingue basata su web

L'interfaccia di gestione server basata su web supporta inglese, cinese tradizionale, cinese semplificato, giapponese, coreano, francese, tedesco, italiano, spagnolo, russo, polacco e portoghese

Programmi di utilità

Procedura guidata per la configurazione per MS Windows / Mac OS X,
supporto multilingue
Supporta l'utilità per il backup per Windows 2000/7/XP/2003/Vista, Mac OS X

Notifica per email

Invia messaggi di sistema tramite email all'amministratore di sistema

Gestione SNMP

Supportato

Gestione energetica

On/off pianificato

Supportato

Wake-On-LAN (WOL)

Supportato

Spegnimento automatico dopo blackout

Supportato

Altro

Cestino

Supportato

Dual DOM

Supportato

Server Web + MySQL (modulo)

Supportato

Procedura di mount ISO

Supportato

Disco Web

Supportato con accesso remoto

Installazione Modulo automatico

Se lo storage IP di Thecus è in grado di connettersi a Internet, si collegherà automaticamente al sito web ufficiale di Thecus e agli elenchi di moduli disponibili.

Server telecamera IP di sorveglianza (modulo)

Supporta fino a 5 telecamere IP

Browser web supportati

Internet Explorer 7 o superiore
Firefox 3 o superiore
Contenuti della confezione
Accessory Bag(with key)
Ethernet Cable
Power Cord
Power Adaptor
Lithium-ion Battery
Acronis True Image DVD
Universal CD
QIG
Warranty Card
HDD Compatibility List Card
Classe Thecus
Thecus TV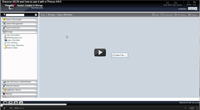 Discover iSCSI and how to use it with a Thecus NAS
This tutorial is separated in three parts. The first part will teach you what's iSCSI and how it can be used. The second and third part would be practical demonstration on iSCSI Target/Initiator. Only the second part requires a Thecus NAS!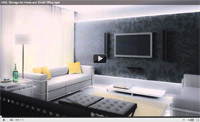 NAS: Storage for Home and Small Office
This video shows how a Network Attached Storage (NAS) solution with Intel® processors can help save time and increase productivity for small business and help organize, share and back-up your data at home. Simply dumping data onto external drives is no longer considered a good practice. Network Attached Storage (NAS) is surprisingly affordable and allows people to actually manage the data they store.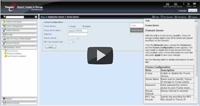 The basics of Thecus Firmware V5
Learn more about the brand new Firmware V5 for Thecus NAS. This video focus on UI improvements, user-friendliness features, and the new AMI (Auto Module Installation) which allows you to customize your NAS in a few clics. Live video starts at 2:18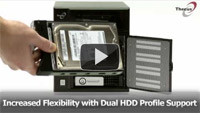 Thecus® N4200 - Zero-Crash™ with Dual Power NAS
In the digital age, people are creating and accessing digital content like never before. As such, they require a storage device that is powerful enough to store and serve this content, but friendly enough to manage quickly and effortlessly. Today, digital storage leader Thecus® Technology is proud to announce the Thecus® N4200. Fast, secure, and incredibly easy-to-use, the N4200 is the ideal home NAS for the digital lifestyle.