Linux NAS | Ufficio domestico/casa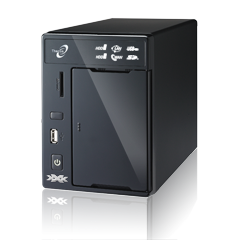 N2200XXX
Server NAS a due alloggiamenti ad alte prestazioni all-in-one
Riconoscimenti/Recensioni
Caratteristiche
Velocità estrema
Le imprese pretendono dai NAS una risposta pronta ed efficiente. Per questo l'N2200XXX è stato costruito così veloce : dotato di un processore Intel Atom D525 a 1,8 GHz, l'N2200XXX, che monta 1 GB di efficientissima RAM DDR3, puo' vantare prestazioni spettacolari. E la concorrenza resta a guardare…

Supporto per la ricerca dei bad block
Effettuate una ricerca nei vostri dischi per trovare i problemi prima che si verifichino. L'utilizzo di aggiornamenti di stato dei dischi dettagliati, fornisce loro le impostazioni perfette e l'ambiente ideale per conservare l'integrità dei dati garantendone sempre l'accessibilità

Protezione estrema
Grazie alla criptazione del volume RAID AES256bit e alla funzionalità della chiave USB, potrete mettere la sicurezza al primo posto. Semplicemente inserendo una chiave USB potete sbloccare i dati, altrimenti indecifrabili, garantendo così l'accesso nella massima sicurezza

Estrema flessibilità
Semplificate il vostro accesso alle fotocamere digitali, agli smartphone, ai dizionari elettronici e molto altro ancora. L'N2200XXX supporta i lettori di schede SD/SDHC/MMC per un accesso facile ai dati multimediali.

Display all'avanguardia
Controllate il vostro N2200XXX con un avanzato display LED. Vi verranno visualizzate importanti informazioni sul sistema e sull'attività del disco quando è necessario, grazie a un display al passo coi tempi.

iSCSI Thin Provisioning
Effettuate il collegamento tramite iSCSI per ottenere le massime velocità di trasferimento dati possibili e rendete il problema dello spazio sprecato nei dischi una cosa del passato grazie alla funzionalità di storage flessibile del thin provisioning.
Panoramica
La nuova linea XXX di NAS di Thecus è all'avanguardia nel soddisfare ogni esigenza. Questo grazie all'estrema potenza, alle estreme funzionalità e all'estremo valore forniti dai NAS di Thecus. Che si tratti di un prodotto per utenti finali che di un NAS molto potente per esperti del settore, ogni modello è tarato fino al dettaglio più estremo, in base alle vostre esigenze. Da un montaggio su rack a 2 slot per un ufficio domestico a uno da 8 slot per l'azienda con notevoli requisiti, i NAS XXX di Thecus sono la risposta giusta.
La nuova "era dei NAS" richiede prodotti di livello professionale per ogni esigenza. Thecus offre  prodotti che  vanno oltre alle richieste degli utenti, fornendo prestazioni e funzionalità notevoli ad un prezzo ragionevole. Introducendo il processore Atom D525 di Intel nei NAS N4200PRO e N4200Eco a 4 slot, Thecus vuole garantire sia alle PMI e agli utenti domestici esperti, di eseguire un gran numero di trasferimenti di dati e su file di grandi dimensioni. Per gli utenti con esigenze di spazio meno pressanti, un NAS a 2 slot con il processore Atom D525 è il compromesso ideale per limitare i costi senza rinunciare alle prestazioni. Per un ulteriore incremento della velocità a ogni livello, il NAS N2200XXX è stato potenziato con memoria RAM DDR3 che si coordina con il processore Atom D525 esaltandone le prestazioni. Questa combinazione ha raggiunto la velocità di trasferimento di 90 MB al secondo nel NAS N4200PRO e persino superiori il NAS N2200XXX.
Altra caratteristica eccezionale del NAS N2200XXX è l'ulteriore connettività delle schede SD, SDHC e MMC. Grazie al lettore di schede incorporato, l'archiviazione di musica, foto e video non è mai stata così facile e veloce.
Sono state inoltre rafforzate la protezione e l'efficienza, per consentirvi di lavorare in tutta tranquillità e sfruttare al massimo lo spazio di archiviazione. La crittografia AES a 256 bit dei volumi RAID e le funzionalità per chiavi USB offrono la potenza necessaria per raggiungere un livello più elevato di sicurezza dei dati. I trasferimenti iSCSI e il thin provisioning iSCSI garantiscono la connettività del più veloce protocollo sviluppato e una perfetta distribuzione dello spazio su disco per utenti multipli. Grazie al thin provisioning, lo spazio allocato degli utenti varia automaticamente espandendosi e riducendosi in base alle specifiche esigenze di ognuno di loro. Queste e molte altre funzioni hanno permesso al NAS N2200XXX di Thecus di superare la concorrenza rendendolo il prodotto ideale per gli utenti domestici che tengano particolarmente alla potenza.
Specifiche
1.Hardware Platform
Item
Spec
Processor
Intel® Atom™ D525 1.8GMhz Processor
System Memory
1 GB DDR3 SODIMM
LAN Interface
RJ-45x2 : 10/100/1000 BASE-TX Auto MDI/MDI-X
LED indicator
Power(Blue)
HDD1-2 Activity/Fail(Blink white/Red)
WAN (Link : Solid white; Activity : Blink white)
LAN (Link : Solid white; Activity : Blink white)
USB (Copy LED: Blink white)
Card Reader (Copy LED: Blink white)
Disk interface
SATA x2 , 1x eSATA for external
Power
60W external power adaptor
USB Interface
USB 2.0 host port x3 (Front x1, Back x2) (A Type)
Card Reader
Support SD/SDHC/MMC
Thermal/Fan control
Thermal sensor on processor temperature
System FAN speed controlled by temperature.
Real-time clock
Battery backup system clock
PCI-e x1 slot
1
Power management
Power on after power lose resume
Buttons
Power button
USB copy button
Buzzer
Frequency Controllable
Chassis
2bays Tower Metal Chassis
Environment
Temperature : 5°C to 40°C
Humidity : 0 ~ 80 % R.H. (Non-condensing)

2. Software Functions
RAID
RAID modes
RAID 0, 1 and JBOD
Auto-rebuild
Supported
Hot-swap
Supported
Hot Spare
Supported
RAID Volume Encryption
AES256bit
Disk
Power management
Spin down while idle time setup
Bad Block Scan
Supported
SMART Info
Supported
SMART Test
Supported
Roaming
Supports roaming to other N2200XXX
Network
Configuration
Fixed IP Address, Dynamic IP Address
IP sharing mode
Can be enable/disabled
Transport Protocols
TCP/IP/Appletalk
File Protocols
SMB/CIFS, HTTP/HTTPS, FTP, TFTP, NFS v3, AFP
Link Aggregation
6 modes supported:
1. Local balance
2. Failover
3. Balance-XOR
4. 802.3ad
5. Balance-TLB
6. Balance-ALB
Data Access
Client OS support
Windows XP and after
Windows Server 2003 and after
UNIX/Linux
Mac OS X
WebDisk(module)
Web-based file access
TFTP
Build in TFTP Server
FTP
Build in FTP Server with bandwidth control
Secure FTP
Build in secure FTP Server with bandwidth control
Download Manager (Module)
HTTP / FTP / BT / eMule / NZB
Printer Server (IPP)
Supports USB printers
Supports IPP various printers
Client can manage print tasks (List/Delete) via Web user interface
Data Backup
Client schedule incremental data backup
Acronics True Image (OEM)
Client system Disaster Recovery
Acronics True Image (OEM)
USB/card reader device copy to N2200XXX
Through one button copy
Snapshot
Supported
Bi-directional USB Copy (Module)
Supported
Native Rsync
Supported
Block Level Access
iSCSI Target
Supports Microsoft/Mac/Linux Initiator
iSCSI initiator
For stackable with other Thecus NAS which support stackable
iSCSI Thin Provisioning
Configurable to virtual size as system allowed capacity
Power management
Schedule power on/off
Supported
Volume management
Multiple file system selectable
EXT3 / EXT4 / XFS / ZFS
Multimedia Support
iTunes Server
Supports AAC, MP3 w/ ID3 tag and WAV
Photo Web Server
Supports GIF, JPG (JPEG) and PNG
Supports EXIF display
Supports slide show
Media server
Supports uPnP AV streaming protocol
User Authentication
Local User
Supports built-in user accounts
Local Group
Supports built-in user groups
Windows NT/ADS
Supported
File System
Type
Journaling File System
Language Support
Unicode Support
Authorization (ACL)
Read, Write or Deny options on individual users or groups for share and sub-folders
Administration
Multi-Lingual Web-based administration
Web-based server management Interface Supports English, Traditional Chinese, Simplified Chinese, Japanese, Korean, French, German, Italian, Spanish, Russian Polish and Portugal
Utility Program
MS Windows Setup Wizard,
Supports Windows 2000/XP/2003/Vista/7
Mac setup Wizard (OS X only)
Email notification
Sends system messages via Email to system administrator
SNMP trap
System information trap out
Others
Web Disk (Module)
Supported
User Quota
Supported
Recycled bin
Supported
Web Server (Module)
Supported
ISO Mount
Supported
User module
Supported
IP CAM surveillance (Module)
Supports up to 5 IP CAM
Contenuti della confezione
Accessory Bag
Ethernet Cable
Power Cord
Power Adaptor
Acronis True Image DVD
Universal CD
QIG
Warranty Card
HDD Compatibility List Card
Classe Thecus
Thecus TV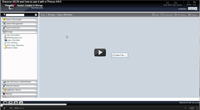 Discover iSCSI and how to use it with a Thecus NAS
This tutorial is separated in three parts. The first part will teach you what's iSCSI and how it can be used. The second and third part would be practical demonstration on iSCSI Target/Initiator. Only the second part requires a Thecus NAS!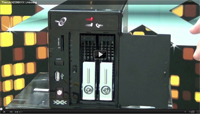 Thecus N2200XXX Unboxing
While the N2200XXX has been praised by the press worldwide, you can now discover it live during this unboxing. After the traditional unboxing, you'll see how the SD cards reader is working and what's happening if one of your disk is failing.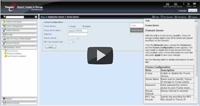 The basics of Thecus Firmware V5
Learn more about the brand new Firmware V5 for Thecus NAS. This video focus on UI improvements, user-friendliness features, and the new AMI (Auto Module Installation) which allows you to customize your NAS in a few clics. Live video starts at 2:18
Thecus xXx series NAS
The new XXX line of Thecus NAS is leading the way in catering to your needs. With Xtreme power, Xtreme function, and Xtreme value, these Thecus NAS deliver. Whether it be a strong product for a budget price or a high-powered NAS for the tech-savvy, each model is extremely geared towards fitting you. From an extremely speedy 2-bay for your home office to an extremely powerful 8-bay rackmount for even the most demanding enterprise, Thecus XXX NAS are ready for you.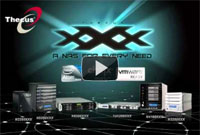 Thecus XXX Series Official Trailer
The new XXX line of Thecus NAS is leading the way in catering to your needs. With Xtreme Power, Xtreme Function, and Xtreme Value, these Thecus NAS deliver.