Linux NAS | Ufficio domestico/casa
N2200EVO
Evolve Your Digital Home
Caratteristiche
Server multimediale DLNA
I NAS Thecus possono diventare degli ottimi server multimediali e memorizzare con semplicità enormi librerie di brani musicali, immagini e film. Il server multimediale DLNA vi permetterà di riprodurre tutti i vostri file multimediali sulla TV di casa, in stereo, o su dispositivo mobile.

True Image di Acronis
Thecus propone sempre il meglio con il software di backup avanzato di Acronis. Eseguite il backup di tutti i vostri dati con One-click Protection o selezionate solo i file più importanti. Acronis offre un'interfaccia benfatta, un design semplicissimo e funzioni complete per mantenere i propri dati al sicuro

Rsync
Eseguire il backup dei dati è un'indiscussa necessità e ognuno ha le sue esigenze specifiche riguardo allo storage. La funzione Rsync di Thecus assicura agli utenti un'elevata flessibilità con opzione di backup remoto, un pianificatore flessibile e la stabilità di trasferimento tipica di Linux.

Energy Saving
L'energia necessaria per mantenere in ordine e funzionante il vostro NAS può incidere enormemente sul suo costo complessivo. Abbassate il vostro TCO (costo totale di possesso) con le funzioni avanzate di risparmio energetico dell'N2200EVO. Con l'accensione/spegnimento programmati, si può comunicare all'N2200EVO di accendersi solamente in alcune ore del giorno. Inoltre, con due rallentamenti automatici della rotazione del disco ed un design avanzato di power saving, l'N2200EVO è veramente parco nei consumi.

AJAX
L'installazione e l'uso dell'N2200EVO non devono costituire un problema, per questo viene equipaggiato con una semplice Guida di installazione che vi accompagnerà nell'intera procedura di setup. Una volta operativi, la nuova interfaccia utente basata su AJAX elimina qualsiasi problema in modo veramente semplice.
Panoramica
Building on the success of the popular N2200PLUS, Thecus is releasing a new 2-bay model aimed for home use. The N2200EVO provides users good speed and great value, with transfer rates over 50MB/s and a host of backup. Thus, multimedia functions makes it easy to keep data safe while creating movies, music, and photo hub for your home.
The N2200EVO's dual-core Cavium processor is powerful enough to handle large backups, web hosting, photo serving, multiple users, and even streaming HD video. Although it is ideally suited for home use, with a maximum capacity of 6TB it can also easily fit into a small business environment to act as a central cloud storage or backup server among many other things. To cut down its carbon footprint as well as save on electric bills, the dual-core Cavium has extremely low power usage and with scheduled power on/off, the N2200EVO will only be on when it needs to be.
- Thecus Firmware includes support for all the newest advances: XFS, 3TB HDD, SATAIII HDD, an open source module system, and more.
- The powerful Acronis Backup software makes backups easy and keeps your data safe!
- A wide array of free modules are available from www.thecus.com or the Thecus UI, including:
a. A download manager for BitTorrent, eMule and HTTP. You don't even need to switch on your computer!
b. The brand new Piczza! photo server, which allows you to share your pictures with friends and family in a smart and easy-to-use interface.
c. A Web Disk module to upload and download data simply and easily to and from your NAS.
"Home users are educating themselves and learning of the importance of data backup and also the fun of a home media center. The N2200EVO fulfills these specs among many others extremely well and does it all at a great value," said Florence Shih, Thecus Technology General Manager. "The dual-core Cavium also makes sure you get good performance without testing your electricity budget."
"Cavium is delighted to be working with Thecus in introducing the revolutionary 2-Bay NAS product to the market," says Douglas Cheung, Director of Marketing for Consumer and Home Networking at Cavium. "Our ECONA family of dual-core System-On-Chips (SoCs) deliver best–in-class NAS performance with the lowest power consumption. N2200EVO leverages these attributes of ECONA SoC to deliver an energy efficient 2-bay solution without compromising the performance or cost targets."
Specifiche
1. Piattaforma hardware
Elemento
Spec.
Processore
Cavium CNS3420 SoC Dual Core @ 600Mhz
Memoria sistema
256MB DDR2
Interfaccia LAN
RJ-45x2: 10/100/1000 BASE-TX Auto MDI/MDI-X
Interfaccia USB
Porta host USB 2.0 x1 (posteriore x1)
Porta target USB 2.0 x1 (anteriorex1)
Interfaccia disco
2 x SATA per interno

Alimentazione
Adattatore esterno
Controllo termico
Sensore termico su HDD
Regolazione temperatura sistema
Cicalino
Allarme frequenza regolabile
Tasti
Tasto di alimentazione (anteriore, arresto alimentazione da UI)
Tasto di copia USB
Tasto di reset
Ambiente
Temperatura: 5°C - 40°C
Umidità: 0 ~ 80 % di umidità relativa (senza condensa)
Telaio
Telaio in metallo
Dimensioni (HxLxP)
213.59 x 115.17 x 139.2 (mm)
Carico
2.7Kgs

2. Funzioni software
RAID
Modalità RAID
RAID 0, 1e JBOD
Ricostruzione automatica
Supportato
Hot-swap
Supportato
Disco
Gestione consumi
Arresto disco durante impostazione al minimo
Scansione blocco danneggiato
Supportato
Info SMART
Supportato
Rete
Configurazione
Indirizzo IP fisso, indirizzo IP dinamico
Modalità di condivisione IP
Attivabile/disattivabile
Protocolli trasporto
TCP/IP/Appletalk
Protocolli file
SMB/CIFS, HTTP/HTTPS, FTP, NFS, AFP
Accesso dati
Supporto OS client
Windows XP and after
Windows Server 2003 and after
UNIX/Linux
Mac OS X
FTP
Server FTP integrato con controllo larghezza di banda
FTP sicuro
Server FTP sicuro integrato con controllo larghezza di banda
TFTP
Gli utenti possono scaricare e caricare file con i programmi TFTP
Gestione download
HTTP/FTP/BT/eMule (tramite modulo DLM)
Download NZB (tramite modulo NZB)
Server stampante (IPP)
Supporta stampanti USB
Supporta un'ampia gamma di stampanti IPP
Client può gestire i task di stampa (elenco/cancella) tramite interfaccia utente web
Backup dati
Backup dati incrementale client
Acronis True image (OEM version)
Ripristino disastri sistema client
Acronis True image (OEM version)
Copia USB
Copia i contenuti del dispositivo USB nel NAS (tramite modulo di copia USB)
Backup dei dati NAS su dispositivo USB esterno
Supportato (tramite modulo di backup USB)
Copia USB bidirezionale
Supportato (tramite modulo di copia USB)
Software di backup lato client
Utility di backup Thecus (Windows/Mac OS X)
Backup Rsync
Rsync duplica i dati tra due sistemi (tramite modulo Rsync)
Mac OS X Time Machine
Supportato
Gestione consumi
Accensione/spegnimento programmati
Supportato
Gestione volume
File System
XFS
Supporto multimediale
Server iTunes
Tipi di file supportati: AAC, MP3 w/ID3 tag, WAV
Piczza!™ Server web (tramite modulo)
Supporta GIF, JPG (JPEG), BMP, PNG
Supporta display EXIF
Supporta gli slide show
Server multimediale
Supporta il protocollo di streaming UPnP AV (tramite modulo Twonkymedia)
Sorveglianza semplice
Supporta fino a 2 fotocamere IP (tramite modulo IP Cam)
Autenticazione utente
Utente locale
Supporta gli account utente incorporati
Gruppo locale
Supporta i gruppi di utenti incorporati
File System
Tipo
Journaling dei file system
Lingua supportata
Supporto unicode
Autorizzazione
"Legge", "scrive" o "nega" i privilegi ai singoli utenti o gruppi in cartelle e sottocartelle
Amministrazione
Interfaccia utente
L'interfaccia utente basata su web supporta inglese, cinese tradizionale, cinese semplificato, giapponese, coreano, francese, tedesco, italiano, spagnolo, russo e polacco.
Programma utility
Installazione guidata di MS Windows
Supporta Windows 2000/XP/2003/Vista/7
Installazione guidata di Mac OS X
Notifica via e-mail
Invia messaggi di sistema tramite e-mail all'amministratore del sistema
Altro
Cestino
Supportato
Disco web
Supportato
Montaggio ISO
Supportato
Installazione Auto Module
Il server dei moduli Thecus fornisce automaticamente i moduli più recenti ed esegue l'aggiornamento grazie all'interfaccia utente.
Contenuti della confezione
| | | | |
| --- | --- | --- | --- |
| | | | |
| Accessory Bag | Ethernet Cable | Power Cord | Power Adaptor |
| | | | |
| Acronis True Image DVD | Universal CD | QIG | Warranty Card |
Thecus TV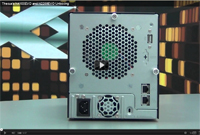 Thecus's N4100EVO and N2200EVO Unboxing
Thecus is well known in the market for always putting innovative hardware and state of the art technology on the table for a fair price in order to guarantee our customers the best value. Thecus's new N4100EVO NAS offer a broad range of advanced features and differentiate themselves with low-energy hardware for those who place strong value on cutting down their electricity costs and carbon footprint. This cost-effective hardware is the first four-bay NAS on the market to feature the speedy and efficient dual-core Cavium CPU to get the quick transfer speeds necessary for large backups and heavy use. The N4100EVO is designed to change the way you run your office, at home or at work.