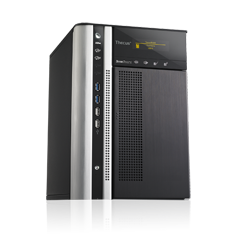 Sistemi all-in-one con Linux integrato
Impostazioni predefinite per lo storage sicuro nelle funzioni RAID
Capacità di archiviazione regolabili per singolo NAS RAID
Pacchetto al dettaglio per il mercato della sorveglianza domestico e per piccoli uffici domestici
Flessibiluità nell'aggiunta di licenze per telecamere e moduli avanzati
Sofisticato software di sorveglianza con funzioni a moduli opzionali

Caratteristiche
1. Funzioni standard NVR Thecus® VisoGuard
Sistema integrato Linux
Nessun dubbio su minacce di hacker e virus, meno spese di funzionamento generale per una soluzione NVR efficace.



Soluzione di sistema all-in-one e installazione rapida in meno di 30 minuti
Combina centro di archiviazione (scheda di acquisizione video), server di rete e software all-in-one. Gli NVR Thecus® VisoGuard sono pronti per il funzionamento immediato: basta creare il RAID, installare il plug-in NVR per far sì che l'NVR sia pronto per il funzionamento in meno di 30 minuti. La funzione Camera Setup Cloning (Clonaggio delle impostazioni della telecamera) consente di risparmiare altro tempo utilizzando le stesse impostazioni per varie telecamere con un clic di un tasto.


Funzioni RAID
Singole funzioni RAID consentono agli utenti di impostare l'NVR per attività specifiche. Se si desidera migliorare le prestazioni o la ridondanza, le funzioni RAID offrono varie opzioni per diverse necessità (capacità HDD regolabile e predefinita del 30% per il NAS; supporto del formato xfs, server samba/FTP: WebDisk, server fotografico Piczza!, backup USB/eSATA, trasmissione e NZBGet, ecc.).

Vari formati di registrazione video
Supporta i formati H.264, MPEG-4, MJPEG e Motion-PEG. La funzione "Dual-Stream Video Analytics" (Analisi video doppio streaming) registra i video nel formato più adeguato.

Exportazione in più formati video
Supporta formato di file AVI, JPEG o SAFE per l'esportazione. Il file SAFE è un file non manipolabile che include un lettore: Video + Lettore = SAFE. E questo lettore include, ad esempio, funzioni note del monitor online o lettore di archiviazione quale PTZ digitale, visualizzazione di video iCAT, ... E per di più, è possibile esportare più streaming video in un unico file SAFE.

Visualizzazione in tempo reale multischermo
"Dynamic Viewport" offre la visualizzazione contemporanea di tutto con la funzionalità di trascinamento su più schermate. Ciascuna schermata è in grado di visualizzare le visualizzazioni di più telecamera, schermo intero o entrambi.

Supporto multistreaming
Supporta multistreaming MJPEG + 1ch., streaming H.264 o streaming 1ch. MPEG-4 dalla stessa telecamera a VisoGuard (ad esempio, la visualizzazione online e la registrazione possono essere effettuate in diversi formati e frame rate).



Rilevamento del movimento
La funzione di rilevamento del movimento offre la possibilità di selezionare un periodo di tempo durante il quale viene attivato il rilevamento del movimento. È inoltre possibile limitare il rilevamento del movimento di una parte del campo visivo al fine di monitorare gli elementi o le aree specifiche e registrare l'ambiente circostante quando le aree selezionate sono attivate. Supporta il rilevamento di più movimenti per telecamera.


PTZ
Il comando PTZ remoto (pan/tilt/zoom) consente di regolare l'angolo di visione di una telecamera e lo zoom da stazioni di monitoraggio di qualsiasi parte del mondo. Inoltre, si ottiene un maggiore controllo delle telecamere con proporzioni regolabili, supporto HDTV, allungamento e ritaglio di video, e il controllo di porta avanzato.


Sistema di gestione eventi
‧Messaggi informativi ‧Messaggio di malfunzionamento del sistema ‧Cambio di stato della telecamera ‧Messaggio specifico della telecamera
‧Annotazione video ‧Eventi di cambio di stato ‧Analisi video (iCAT) ‧Gestione di eventi esterni
Gli allarmi eventi e le registrazioni dettagliate funzionano con il rilevamento del movimento e l'analisi video per essere sempre al corrente di tutto ciò che sta accadendo. Gli allarmi e le registrazioni sono facilmente configurabili, accessibili e navigabili tramite un semplice sistema di gestione eventi. Gli streaming video possono essere contrassegnati con indicatori orari avanzati per la ricerca e l'analisi potenti. È possibile assegnare una priorità agli eventi per far sì che il sistema di sorveglianza reagisca solo ad azioni specifiche, riducendo la creazione di falsi allarmi. Supporta sistemi integrati di terzi tramite SNAP, contatti I/O e la nuova API di comando URL, ecc.


5 Megapixel
Supporta risoluzioni di 5 megapixel per ciascuna telecamera o superiore



Riproduzione
La riproduzione video offre un modo comodo per l'analisi dei dati registrati. Consente la riproduzione di 4 video contemporaneamente.



Browser e accesso remoto
Capacità di accedere ad Internet e implementazione dell'accesso remoto.



10x10 viewport
Supporta fino a 10X10 viewport in una sola schermata


2. Funzioni opzionali disponibili in VisoGuard Core/ Basic/ Extended/ Enterprise Edition
Visualizzazione client mobile
Client iPhone: supporta monitoraggio in tempo reale MJPEG



ABS
La tecnologia univoca ABS (Adaptive Balanced Streaming) è in grado di supportare il funzionamento di telecamere megapixel in ambienti con larghezza di banda limitata. La tecnologia avanzata produce immagini di alta qualità anche con larghezza di banda bassa.



Smart Tripwire©
La tecnologia univoca Smart Tripwire© impedisce il conteggio duplicato e non corretto di oggetti. Smart Tripwire© è direzionali e conta solo gli oggetti rilevati prima nell'area di origine e poi si muove in essa. Il vantaggio è la riduzione del rapporto di errore per il monitoraggio complesso della frequenza del cliente dal 20% al 5% rispetto ai sistemi precedenti nonostante la complessa architettura del negozio. Può essere utilizzato come Protezione del perimetro.


Visual Statistics©
iCAT ha la capacità di raccogliere le statistiche di conteggio degli oggetti, velocità e dimensioni, oggetti fermi e tempo di arresto degli oggetti. Le seguenti statistiche possono essere visualizzate da intricate sovrapposizioni di colore o normale streaming video, attraverso il sistema di monitoraggio online, e gli utenti possono riprodurre i dati acquisiti.


Rilevamento e tracking di oggetti
Per ogni telecamera, è possibile definire un'area di tracking con vista intera o parziale della telecamera (sotto forma di poligono o rettangolo). Rilevamento e tracking di oggetti può anche essere limitato in base alle dimensioni dell'oggetto, la velocità e alle proporzioni X/Y.

Conteggio di oggetti rimossi e abbandonati
iCAT può essere programmato per rilevare gli oggetti rimossi e abbandonati con i vincoli possibili per durata della permanenza e dimensioni degli oggetti.



LNT
Layout Navigation Tool (LNT) offre funzionalità di navigazione sofisticate per sistemi di grandi dimensioni. È facile configurare layout gerarchici e ottima integrazione con sorveglianza Thecus, quindi che lo rende una soluzione ideale per le installazioni di maggiori dimensioni.

POS
POS Monitor per un modulo intelligente su base Windows per il monitoraggio video delle transizioni POS. Consente al sistema di rilevare e ridurre gli errori dei cassieri, incomprensioni e persino frodi. I versatili tag di ricerca archivio quali "sconto", "nome personale" e streaming video garantiscono una chiara immagine dell'evento.


SNAP
SNAP XML fornisce una base flessibile per l'integrazione di tutti i tipi di sistemi e applicazioni esterni. Molte integrazioni sono già disponibili, mentre nuove integrazioni possono essere effettuate con il minimo sforzo e costo.



Maschera di privacy
Capacità di nascondere completamente sezioni della schermata.



Rilevamento sabotaggio della telecamera
Rileva cattiva condotta se le telecamere vengono manomesse.



Rilevamento variazione di illuminazione
Variazione del riflettore diretto entro la visualizzazione della telecamera.



Active Directory
Distinzione tra l'amministratore di sistema e l'utente normale.



Crittografia di connessione della telecamera
Connessione completamente sicura della telecamera.



Parete video per modulo centro di controllo
Gestisce fino a 10x10 monitor e visualizzazioni e layout flessibili di controllo o ottimizza gli streaming di singole telecamere in una di esse da un singolo PC client. Può funzionare anche in parallelo con più quadri di comando. L'applicazione è accessibile tramite l'URL http://server-ip-address/videowall in browser web standard.


*L'analisi video iCAT è efficace e funziona con tutte le telecamere. Offre un'impostazione semplice e un potente rilevamento di oggetti, meccanismi di tracking e modulo di statistiche con l'integrazione al sistema di gestione degli eventi. ICAT offre una vasta gamma di flessibilità, garantisce l'utilizzo in situazioni difficili con diverse angolazioni della telecamera. Le utility includono: tracking/conteggio di oggetti e persone, rilevamento di oggetti rimossi e abbandonati e altro ancora. La soluzione all-in-one dell'NVR Thecus® VisoGuard® offre una sorveglianza perfetta e garantisce risultati eccellenti nel proprio settore.
Panoramica
Definitely, 2013 starts with a big boom at Thecus®. After the launch of the N12000PRO and N16000PRO, the announcement of the 64 bit ThecusOS™ 6.0, the unveiling of the N2520/N4520 and Intelligent NAS utility at CeBIT 2013, it's time for the NVR family to impress the world with 7 new devices with updated architecture to offer superior performances.
We here by present you in tower format the V2510, V4510, V5510 and V6810; and for the rackmount category, we have the new V4510U, V8810U and V16810U. All equipped with the VisoGuard® security system management software developed in partnership with Netavis, these new NVR will offer better performances than ever for all type of users with needs of 2, 4, 5, 6, 8 or 16 bays of storage.
V2510
Cousin of the N2800, the 2-bay V2510 from Thecus® is also equipped with a 64bit Intel® Atom™ processor, 2GB of DDR3 RAM, features a USB 3.0 port, an eSATA port, a card reader, HDMIand VGA output and is the perfect candidate for home security system management. With its fanless CPU, this unit is also an ecologic choice as it consumes less energy and keeps its noise emission to a low level.
V4510 and V4510U
Similar to the N4800 and the N4510U NAS, the V4510 and V4510U are the latest 4-bay NVR option with an Intel® Atom™ processor. The tower and rackmount both feature 2GB of DDR3 RAM, 2-USB 3.0 ports, one eSATA port, HDMI and VGA output. These VisoGuard® equipped little jewels will offer you the most flexibility between tower and rack units with great performances, great connectivity and 4 bays for up to 16TB of storage.
V5510
Starting from its release in 2012, the N5550 received many awards and is now setting the standard in terms of 5-bay NAS around the world. Due to its huge success, it was an easy decision to transform this high performance NAS into an NVR. Therefore, the V5510 from Thecus® comes equipped with a 64bit Intel® Atom™ processor, 2GB of DDR3 RAM, a USB 3.0 port, an eSATA port, HDMIand VGA output. When it comes to perfect balance between storage and performance, the V5510 will definitely satisfy the home users and SMB alike. As everyone requires more and more performance from their devices, the V5510 has an available PCI-e slot in the back ready to host more Ethernet ports and provide the users with increase throughput from link aggregation.
V6810
If you are that user who has many cameras to handle, a lot of data to store, no rackmount cabinet and expect fast performances from your network video recorder, search no more! The V6810 will meet your needs. Equipped with an Intel® Core i3 processor and 4GB of DDR3 RAM, this tower format NVR will offer you up to 24TB of storage and processing speed worthy of the best.
V8810U
Intel® Core™ i3 processor, a massive 8GBof DDR3 RAM, standard USB3.0 port, HDMI output, this is what you get in a rackmount format with the V8810U. With built-in redundant power supply, this 8-bay NVR makes your data invulnerable to power supply failure. Having enough space for 32TB of storage, many days of storage from a great amount of camera will be recordable to the V8810U.
V16810U
Ultimate storage capacity and ultimate security! With 16 bays for a possible 64TB of storage, memory capacity won't be a problem. Multitasking and multi users won't give you any headaches either. Equipped with an Intel® Xeon® E3-1275 CPU and 8GB of DDR3 RAM, the V16810U will be able to handle the heaviest tasks. Failure from the power supply won't equal to data loss and unwanted downtime as this rackmount is equipped with redundant power supply,

"With these new models, we aim to bring to the NVR market a flexible and scalable solution for home or business." said Florence Shih, General Manager of Thecus® Technology. "Our NVR solution offers the power and security features that Thecus customers have come to expect."
VisoGuard®,Keep watching
Developing the proper software solution is essential. That's why Thecus® decided to go on with a highly acclaimed partner already well-established in the digital video industry. NETAVIS, "the pioneer of server-based video surveillance with seamlessly integrated video analytics", offers the best in NVR software solutions, giving VisoGuard® customers a wide array of innovative software tools to make use of Thecus' powerful hardware. Thecus® VisoGuard® line has many features that allows convenience and flexibility when it comes down to security appliances. As it is an all-in-one NVR solution, it offers many services such as a network video recorder, real-time monitoring system, and networked storage unit.
The new NVR systems are going to adapt the latest Netavis software v4.4. In addition to a multitude of basic capabilities (motion detection, hundreds of compatible cameras, multiple OS support, scheduling, various video format support, PTZ control, and so on.) VisoGuard® NVR comes with numerous advanced functions, providing extensive and formidable functionality while remaining flexible and easy to use.
Specifiche
1. Piattaforma hardware
Elemento
Spec.
Processore
Intel® Core™ i3-2120
Memoria di sistema
4GB DDR3
Interfaccia LAN (PCI-e)
RJ-45x2: Intel 82574L 10/100/1000 BASE-TX Auto MDI/MDI-X
WOL supportato
Interfaccia USB
USB 2.0-Host-Port x4(posteriore x2 , anteriore x2)
USB 3.0-Host-Port x4 (posteriore x2 , anteriore x2)
OLED
Visualizza lo stato e le informazioni del sistema (multilingue)
HDMI-Ausgang
Porta HDMI (posteriore x1)
Audio
MIC-Eingang, Line-Eingang, Audio-Ausgang
Interfaccia dischi
6 SATA interni

Alimentazione
Single Power Supply
Orologio di sistema
Orologio sistema batteria di backup
Gestione alimentazione
Accensione automatica dopo un'interruzione dell'energia elettrica
Cicalino
Allarme frequenza regolabile
Tasti
Tasto di accensione (anteriore, spegnimento controllato dall'interfaccia utente)
Tasto LCM (ENT, ESC, UP, DOWN)

Ambiente
Temperatura: da 5°C a 40°C
Umidità: 0 ~ 80% di umidità relativa (senza condensa)
Telaio
Base torre
Dimensioni (AxLxP)
320.4 x 215 x 282.6 (mm)
Carico
9.77Kgs
Certificates
CE/FCC/C-Tick/VCCI/BSMI
RoHS
WEEE
2.Funzioni software
RAID
Modalità RAID
RAID 0, 1, 5, 6, 10, 50 e JBOD
Ricostruzione automatica
Supportato
Hot-swap
Supportato
Hot spare deidcata
Supportato
Disco
Gestione alimentazione
Arresto disco durante impostazione al minimo
Info SMART
Supportato
Rete
Configurazione
Indirizzo IP fisso, indirizzo IP dinamico
Protocolli trasporto

TCP/IP

Protocolli file
SMB/CIFS, FTP, NFS v4, DDNS, UPnP, Port forwarding
TCP/IP
IPV6 & IPV4
Accesso dati
Supporto OS client
Windows XP e successivo

FTP
Server FTP integrato con controllo larghezza di banda
Backup dati
Copia dispositivo USB su V6810
Controllata tramite OLED
Gestione volume
File system
XFS
Autenticazione utente
Utente locale
Supporta gli account utente incorporati
Gruppo locale
Supporta i gruppi di utenti incorporati
File system
Tipo
Journaling File System
Lingua supportata
Supporto Unicode
Autorizzazione (ACL)
"Legge", "scrive" o "nega" i privilegi ai singoli utenti o gruppi in cartelle e sottocartelle
Amministrazione
Interfaccia utente
L'interfaccia utente basata su web supporta inglese, cinese tradizionale, cinese semplificato, giapponese, coreano, francese, tedesco, italiano, spagnolo, russo, polacco, portoghese, turco e ceco
Programma utility
Installazione guidata di MS Windows
Windows XP e successivo

Notifica via e-mail
Invia messaggi di sistema tramite e-mail all'amministratore del sistema
Altro
Modulo utente/sistema
Supportato
Visualizzazione locale
uscita HDMI
UPS
Supportato
| | | | | |
| --- | --- | --- | --- | --- |
| Funzionalità | Core | Basic | Extended | Enterprise |
| N. max. di server interconnessi | 1 | 1 | 3 | Illimitato |
| N. max. di utenti per installazione | 3 | 10 | 20 | Illimitato |
| Formati video (MJPEG, MPEG-4, MxPEG, H.264) | Sì | Sì | Sì | Sì |
| Esportazione (AVI, JPEG, SAFE) | Sì | Sì | Sì | Sì |
| Multimonitor | Sì | Sì | Sì | Sì |
| Accesso remoto | Sì | Sì | Sì | Sì |
| Accesso browser | Sì | Sì | Sì | Sì |
| EMS (Sistema di gestione eventi) | Sì | Sì | Sì | Sì |
| Controllo PTZ | Sì | Sì | Sì | Sì |
| Notifica (E-mail, Alarmbild) | Sì | Sì | Sì | Sì |
| Rilevamento del movimento | Sì | Sì | Sì | Sì |
| Client smartphone (iPhone) - per utente | Opzionale | Opzionale | Opzionale | Opzionale |
| LNT (Layout Navigation Tool) - per utente | n/d | Opzionale | Opzionale | Opzionale |
| Rilevamento telecamera - per telecamera | n/d | Opzionale | Opzionale | Sì |
| ABS (Adaptive Balanced Streaming) - per telecamera | n/d | Opzionale | Opzionale | Sì |
| Crittografia - per telecamera | n/d | n/d | Opzionale | Opzionale |
| iCAT (analisi video) - per telecamera | n/d | Opzionale | Opzionale | Opzionale |
| Monitor POS al dettaglio - per pos | n/d | n/d | Opzionale | Opzionale |
| Active Directory - per server | n/d | n/d | Opzionale | Sì |
| Crittografia archivio - per server | n/d | n/d | Opzionale | Opzionale |
| Numero di riconoscimento targa CarReader - per telecamera NPR | n/d | n/d | Opzionale | Opzionale |
| Interfaccia SNAP XML - per applicazione | n/d | n/d | Opzionale | Opzionale |
| Monitor di frequenza convenzione Pegasus al dettaglio - per progetto | n/d | n/d | Opzionale | Opzionale |
| Modulo centro di controllo VideoWall - per progetto | n/d | n/d | Opzionale | Opzionale |
* Nota: La funzione NVR VisoGuard e le prestazioni sono limitate dalle specifiche hardware. Le specifiche hardware più elevate sugli NVR sui PC client garantiscono prestazioni migliori.